Date: Saturday, 1. December 2018, Position: Puerto Vallarta, Jalisco, Mexico, Mood: Top!!
Bye Bye Baja!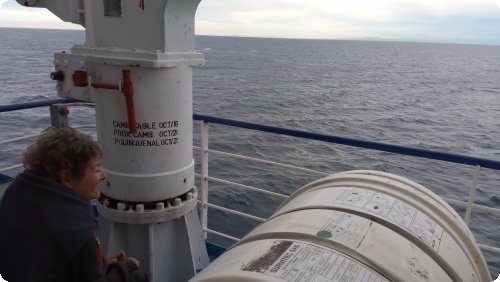 Nose in the wind: On to the "mainland"!
Well, actually the last blog entry wasn't fully attributable to Baja California. But it's stupid to start a new category right in the middle of an entry. Therefore: From now on it goes on with "Mexico Mainland".

Although the Baja is only a peninsula, everyone talks about the "Mainland" when they talk about the main part of Mexico, opposite, just over the Mar de Cortez. So we keep it that way.
Date: Friday, 30. November 2018, Position: Puerto Vallarta, Jalisco, Mexico, Mood: Top!!
The Bavarian Patient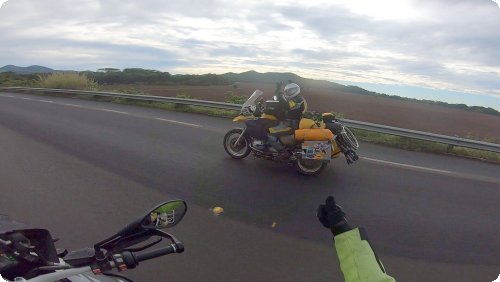 On the road again, finally!
Yes, dear ones, it has taken a little longer now, but here comes our current report and the supplements for the last days. There was no internet on the ferry, and even in the hotel in Tepic, one of the most expensive in Mexico, it was more WLahm than WLAN. But now!
Let's start with the most important: We are doing well, and really well! We are guests of Irma and Mike at the Hacienda Alemana in Puerto Vallarta.
Yesterday we had, for the first time after more than four months, roast pork with fried potatoes and red cabbage (and some of the delicious sauerkraut!), spaetzle with mushroom cream, draught beer, like in heaven! And apart from the climate, which is so clearly better here, very close to our favourite Heidelberg pub "Schwarzer Peter". Wonderful!
Irma, Mike, Tatjana and Marco, as well as Lisa, friend of the house, have taken us in very uncomplicated and familiar. And we can accept it! We have a great room, there is a pool, Mike (and the hotel crew) take care of our well-being, Mike also takes care of our worries with the fat one, and he helps us to plan our further trip through Mexico. A wonderful host! And of course he is a GS driver himself!
So much for the current status.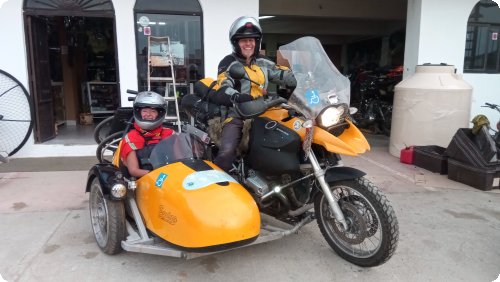 After six weeks: On the bike again!
Good, and now the supplements for the eventful last days.
We picked up our fat lady from the workshop last Saturday. On Fridays we got the call that she would be ready to be picked up at 18 o'clock in the evening. But we didn't want to drive in the dark, so we agreed on Saturday morning.
When we arrive at the workshop on Saturday shortly after ten o'clock, our fat man looks like a real motorcycle again, and our mood rises. All in all we are less excited than the last time we were here. The relaxation we get from changing our plans is good for us.
But on closer inspection I notice some exchanged, missing, wrongly mounted parts and screws. I don't want to bore readers who are less interested in technology with further details, so there is a more detailed technical part at the end of the blog entry.
Two to three of us still work about seven hours until the thickness is actually ready to drive. At first it doesn't start, then, after two more attempts, it reluctantly starts. It runs a little out of round, but I still do a test drive. And we decide to attach the sidecar and drive to the hotel. Maybe in the six weeks only the few good things that are in the Mexican fuel have evaporated away… We'll see, but now let's get going!
Because since 5 pm the performance of the street art workshop "Pa'h la Calle" is running, whose participants live with us in the hotel, and who are a pretty colorful troupe from Mexico, Colombia and Cuba. We don't want to miss them!
On the way to the hotel we listen attentively for clutch, transmission, engine. Apart from the engine: the clutch is doing fine, and the transmission can be shifted like never before, since we have the thickness.
Only the engine makes spectacular misfires, turns up reluctantly, and still runs restlessly in idle, after we have refilled fresh fuel, and it has run warm. But we'll see tomorrow.
First we enjoy the really well done performances of dance, pantomime, clowns, puppeteers and jugglers of the "Pa'h la Calle". Afterwards we say goodbye to the Baja Brewing Company, which spoiled us with the best beer Cabos.
The next day I discover that the main spark plug of the left cylinder is not connected, besides the wrongly mounted, leaking suction hoses. After all this is sorted out, the engine turns round even without warming up, takes the gas well, and we book our ferry to Mazatlan, to the Mexican mainland for the Tuesday evening.
That's not easy either, firstly we don't get the sidecar booked online, and secondly (as a simple motorcycle…) the online booking doesn't accept our credit card. After two phone calls of about 90 minutes in total we have a paid booking for a wheelchair accessible cabin on the "California Star", and are supposed to book the tickets for us and the fat lady until Tuesday, 5 p.m. at the ferry terminal.
So we go to La Paz on Tuesday. Preliminary at first, but then with more and more confidence, because the fat one runs as we wish. Maybe a few rougher tones, but these can also be attributed to our hypersensitivity. We get to La Paz without any incidents, and that gives us a good feeling.
In La Paz, at the Malecon, the beach promenade, we stop to have a look. And see how a constant thread of oil runs from the engine guard, then only drips. An American (nameless to us) offers help, recommends a workshop in La Paz, and gives us half a litre of engine oil.
In the workshop, which seems much tidier and more tidy than the one in Cabo, and where a BMW seems to be waiting for its inspection, we decide that the amount of oil in the engine could be too high. So we let it go and drive on to the ferry.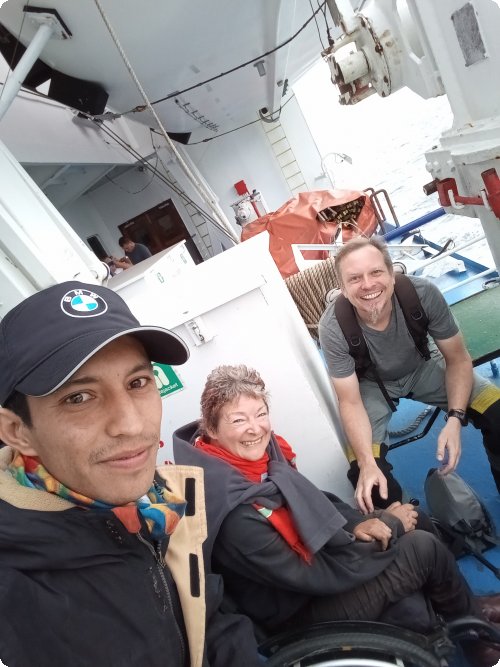 New friends: With Ricardo on the ferry
It'll take a while to get everything together here, too. First the thickness has to be weighed, then the measurements are taken, and then we are allowed to pay.
We drive to the waiting area where we meet a Mexican motorcyclist. And then it gets more and more. A whole group from Colima and surroundings, 11 people on different bikes. More Mexicans and Mel and Julie from Australia join us. Altogether around 20 motorcycles! Some we meet in the evening on the ferry, but because we are all tired, it won't be a long evening.
Our cabin is small, but actually has a passable shower. The ferry is modern and quite different than many have warned us. The ship seems to have been in service with the Scandinavian Stena Line before, and is in pretty good shape. Besides the bikers we also meet the German-American family on the ship, whom we didn't ask for the names either. They travel by car, have five children, and are super nice. The oldest daughter is a really impressive self-confident teenager, and she was the one who spoke to us: "Do I hear right? Do you speak German? Great people and a nice encounter. Maybe we will meet again? And then please tell us your names, too, will you?
Although: We get so many names and it is so difficult for us to remember them all and even more difficult to connect them with faces. It is rather the stories that remain in our memories! Like these: In the morning we meet the eldest daughter on the foredeck, chat a little. I ask "And you do early sports? She: "No! I was born to lie on the couch and write poems. …No bad ones by the way! We will not forget that so quickly!
In the morning we exchange addresses and contact details with the Mexican bikers and receive invitations. And finally Ricardo and the others from Colima overtake us later in the day, and Ricardo takes some of the valuable driving pictures we both take.
Meanwhile we observe more and more oil loss, we are meanwhile sure that the oil does not come from the engine, but from the transmission, and drive again somewhat more carefully, because we cannot check and refill this so simply.
Our destination is the Hacienda Alemana in Puerto Vallarta, but before that we spend the night in Tepic, because the 400 kilometres are not so easy to cover before nightfall. Especially not with our current driving style.
The Hacienda las Higueras in Tepic captivates by a quite high price (however, we are really frozen through and tired, and have no desire to search long), an impressive, somehow dilapidated splendour (not to say "fucked up charm"), a good, but also expensive restaurant and almost useless Internet. Oh, and who knows what American trucks with "unmuffled engine brakes" sound like (like machine gun fire?), can imagine our nocturnal soundscape. The road is right next door. Nevertheless we sleep quite well, because the dripping amounts of oil seem to get smaller, and that calms us down a little.
On the way from Tepic to Puerto Vallarta we continue to lose oil, but there are no larger quantities. In the meantime the hypothesis arises that the mechanics in Cabo may have filled in too much gear oil, and that it is now pressed out by the expansion and too little air space by the new input shaft seal as it warms up. If not, this seal must be replaced, and that means dividing the thickness back into two halves. We fear and hope for the best.
We reach the Hacienda Alemana in Puerto Vallarta on Thursday, around 4 pm, and are immediately delighted with the hospitality of Irma, Mike and his family, as well as the restaurant and hotel staff.
This morning Mike and I checked the oil level in the gearbox and we are now sure that there is enough oil and that the overfilling hypothesis is the most likely explanation. Nevertheless we want to get gear oil tomorrow so that we can refill in case of further losses on the further trip to Leon.
According to Mike, Leon has the best BMW mechanic in the area, and we've been invited to Uli's for some time anyway. So if we need another repair, we can hope to stay with Uli for a longer time, which would relieve the budget.
Up to Leon there are now some nice routes (and stops in nice places) ahead of us, which we want to take under the wheels starting Sunday.
Heike has just banished the last remnants of red from her head with a new haircut. I will probably go to the barbershop again tomorrow.
Otherwise we enjoy the wonderful silence here in the middle of the city, and are happy to have found such good friends.
Farewell Baja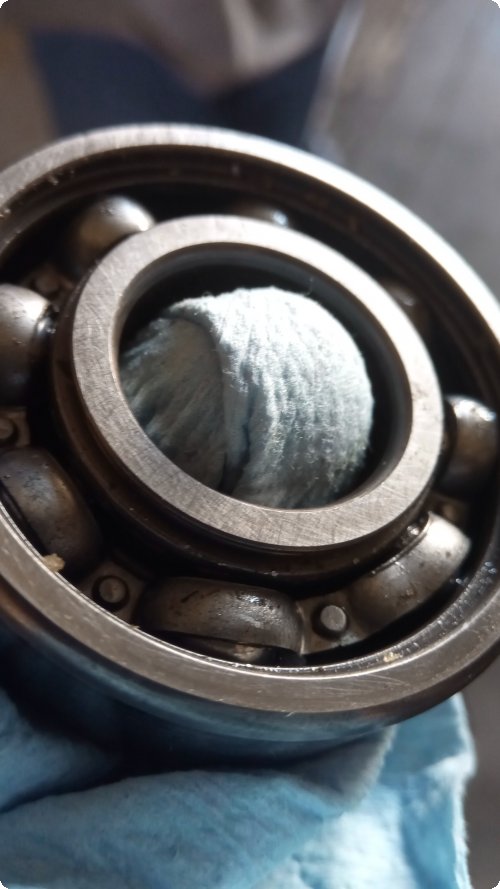 Kaputt: Das pöhse Eingangswellenlager.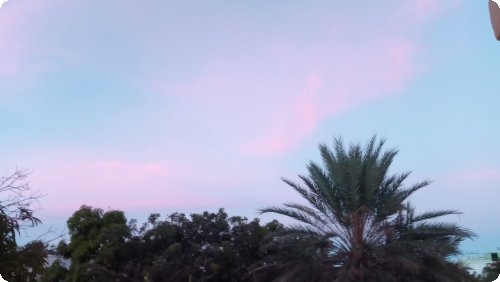 Immer schönes Wetter: Cabo San Lucas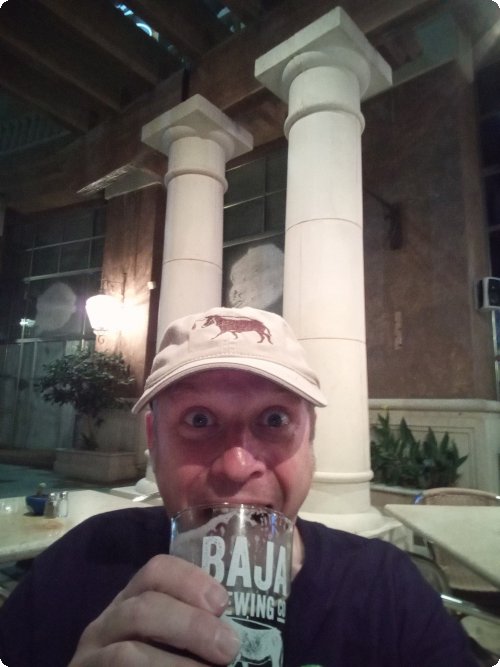 Baja Brewing: Beachtet auch die neue Cap!
Technical Stuff
Yes, well, I hope that in a hurry I can remember all the details that we fixed last Saturday together with the mechanics in the workshop, and which I then completed myself on Sunday in the hotel parking lot.
The rubber spacers between the tank ring and the tank fairing were missing. Even after a long search they could not be found in the remaining parts. Finally the older gentleman, who guards the workshop at night, and also cleans, found them in the garbage. All three of them! A small miracle!
Some screws were screwed in wildly mixed up. While at engine and frame of the BMW (almost) everywhere Torx heads are built in, and the attachments of other suppliers are almost exclusively hexagon socket, the identification would not have been so difficult, but if one does not pay attention to it… So some screws exchanged. In addition there were some misplaced cylinder- vs. pan-head screws.
The side tanks weren't screwed down yet. The right tank also sat strangely. It turned out that the elbow of the quick-release fastener of the fuel line on the main tank on the right had broken during disassembly, and that they had therefore simply replaced the quick-release fastener from the connection of the right side tank with a piece of brass pipe, and had used part of this connection as a replacement. Since also the quick connector of the side tank is not installed there for fun, but has an important function (namely to seal the main tank!), I was really angry, when I discovered this. Fortunately, I had already broken the contra-angle handpiece myself and ordered two as replacements. So I looked for a contra-angle handpiece from the fundus, and mounted the straight connector back to the original place.
When assembling the screws of the side tanks it turned out that the holding bracket sat wrong. So unscrew the tanks again, and turn the one still…
When the seat was put on, it did not engage: the entire locking and holding mechanism was missing. It took some time until he was found. At least even with the tiny spring that locks the hooks in place!
The battery's retaining clip was also missing, but it quickly arrived.
My on-board tool kit had diffused somewhere, but it was found quite quickly together with the large Allen key for the sidecar joints.
Some of the clamps on the intake pipes were not screwed down. For one of the original hook clamps there was obviously no replacement in the form of a screw clamp, so it was reused, which obviously doesn't work without special tools. So I picked a clamp out of our pool, and Jorge assembled it.
At the hotel I started with the electrics, because the sidecar had no electricity, no light, no turn signal. Simple solution: Since plus and minus cables of the power supply for the sidecar were screwed to the plus pole of the battery, no electricity flowed. After all, nothing can break in this way.
On this occasion I laid all the wiring around the battery again. The battery was lying quite "on top" of the battery, so that the seat pressed on the cables. In case of vibration it was not a very durable solution.
Then I started the engine. The electronic diagnostic tool did not report any errors on sensors. So I concentrated on false air. Also the clamps at the connection of the intake hoses to the airbox were not tightened. When tightening I noticed that there was something wrong with it. In fact, the left and right hoses were reversed. You can never get that tight. So the two hoses exchanged, and the clamps well tightened.
After the test drive, which showed better idle, but still bad throttle acceptance, I checked the throttle cables after a long Whatsapp phone call with Michael, our GS guru: All right.
After sight synchronous throttle valve movement and synchronous stop when turning back the throttle handle excluded an adjusted throttle cable distribution or a hung out throttle cable. The cables also run smoothly and without hooks.
Finally I check the ignition coils. And in fact the cable to the coil of the left main spark plug is plugged in, but not engaged. I snap it in, start it up, and the thickness increases quietly even with a cold engine and without jerking or misfiring, accepts the gas perfectly, and everything is fine.
I'm a little surprised that our lady ran at all, given the amount of false air, and only on three spark plugs. It's a fighter's heart what's in this machine. That is quite clear. "¡Qué espíritu de lucha!" said one of the Mexican bikers in La Paz looking at Heike. And that's also true! But for the fat one that probably applies as well…
Well, the matter with the transmission oil remains a bit exciting, because even if it was only overfilled, we now have transmission oil in the clutch bell, which could possibly lie down on the clutch, and then it would be there again. We'll see if the oil can be flushed out carefully. And at least don't drive through deeper water until then, so that the oil stays nicely down where it can't do any damage. Hopefully.
Oh, and some engine oil landed on my left boot, because the clamp of the vent hose, which goes from the cylinder head to the airbox, did not sit on the nozzle. I was able to fix it in Tepic on the hotel parking lot. It was a matter of a few seconds. It seems as if it was simply forgotten.
And today, on December 1st, when I wrote this addendum, Mike and I noticed while removing the oil from the motorcycle (Saturday, because all good Germans clean their mopped! ;) ) that two screws are missing on the airbox to hold it to the frame, they also can't be screwed in, because the rear brake line was inside, instead of outside the battery box. That they are missing doesn't really matter, because the airbox-battery box combination can't move far anyway.
Finally: Thanks to everyone who helped us with good tips and supporting thoughts, donations and everything else! You are really great!
Date: Monday, 26. November 2018, Position: Cabo San Lucas, BCS, Mexico, Mood: Top!!
Finally on the road again!
Dear ones and good ones in the world!
Well, that was another exciting three days, at the end! We will take the time on the ferry to tell you a bit more about it.
But in all brevity: On Saturday we picked up our motorbike and spent the last two days reworking the big lady (more about that later) and packing. And tomorrow morning we will finally continue! Hallelujah! We have even managed to book our ferry for tomorrow evening (more about that later ;) ).
And now we're making our farewell round here in Cabo, and the first one (Rudi) has just announced some tears. Those won't be the only ones. We won't be able to do without as well…
Stay tuned, heads up friends, it goes on!
Date: Friday, 23. November 2018, Position: Cabo San Lucas, BCS, Mexico, Mood: Good!
A copy of the '
FAZ

', please!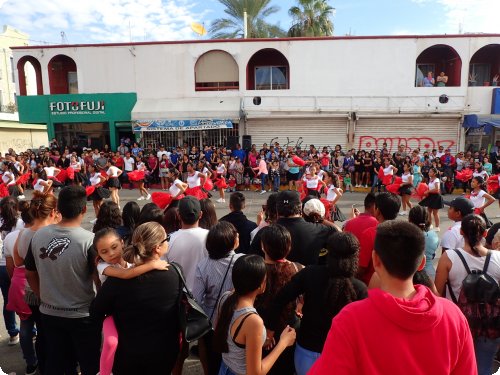 Revolution day: A day off on Monday, to party on Tuesday... ;)
Dear ones,
today we got the news that next Monday, 26. November, the interview with us will be published in the Frankfurter Allgemeine Zeitung (FAZ). So go to the kiosk and buy a copy! You might even try international newspaper shops around Europe, or you might take a Lufthansa flight on Monday and get one for free, as it's generally part of the onboard newspaper portfolio! ;)
It's not too long an interview, but it's a nationwide newspaper with a big tradition. We are curious ourselves, how it is presented, but it seems that we will hardly get a FAZ here. So, we're counting on you!
Oh yes: Our friendly knocking resulted in the following: tonight at 18:00 our big lady is expected to be ready to ride. It's already going to be dark then. Since we don't want to drive in the dark, we want to pick her up tomorrow morning. And please keep your fingers crossed! Thank you!
Hugs,
Heike and Toshi
Date: Thursday, 22. November 2018, Position: Cabo San Lucas, BCS, Mexico, Mood: Good!
Quitting the waiting loop!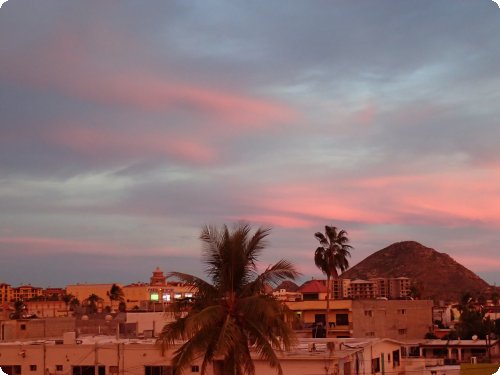 Still beautiful: Cabo San Lucas
Yes, dear ones,
now it's been quite a while since the last entry. But we didn't want to report every day about our continued waiting, and about how it is wearing us down a bit.
We do feel a bit ungrateful. Here we sit in a warm paradise and feel miserable. But the fact that we still write from Cabo San Lucas shows you that Saturday didn't work out either.
At least Silvano called us in time and told us that our fat lady was almost finished. However, since they don't work on Sunday, and Monday is off because of the day of the revolution (which was on Tuesday!), we would have to wait until Tuesday.
Tuesday morning the call: "Mañana!", so Wednesday, around noon. Wednesday we walked to the workshop again. I already in motorcycle pants, boots in the backpack, helmet and jacket we had left there in the sidecar. When we arrive, there is almost nothing to see from 'almost done'. Yes, clutch and gearbox are mounted, and also the rear part of the motorcycle is on again. But when Silvano tells me his brother from San Diego, the BMW expert, arrives here between three and four o'clock, and at six o'clock they expect the machine to be ready to drive, I quietly doubt it. Would he not like to rest after a 24-hour drive? And maybe also celebrate Thanksgiving with his family?
Silvano promises to call us in the evening, offers to pick us up, and sadly we walk back to the hotel.
It feels like bewitched. And the thoughts of when and how we'll get going again, and what we'll do then occupy us almost all the time.
Well, evening comes and no call from Silvano. Not even today. Tomorrow we want to knock again really friendly. Because after all, we want them to take the time to do everything really carefully.
On the other hand: Every time we think that the fat lady is finished, we prepare ourselves for the onward journey. And that almost feels like standing at the very beginning of the journey, after six weeks. Tomorrow, on Friday, we have them full to the day!
In the meantime we have changed the plans countless times, set up and overturned routes, asked ourselves what we want to leave out in order to reach the ship passage between Panama and Colombia in January. To keep the schedule for the rest of the trip somehow.
If we could take the ferry to the mainland on Saturday, that would leave us with exactly six weeks. That would mean expressway, little sightseeing, and even fewer possibilities to follow invitations, which we are now receiving more and more for Central America. And stress, and very little joy of traveling.
Wait a minute? Joy of traveling, slowly, and above all with encounters that we want to enjoy, without a strict schedule, and without too tight a corset. That was our idea for this trip! We are surprised how fast we still, after such a long time of freedom, fall back into our typical German-Protestant "Must get through it" patterns from our "old" lives, when under pressure.

And we decide: No, we don't have to go through that! We wanted to see Mexico, and we will! And we'll do it tranquilo. And Central America as well! And if that messes up our schedule, then we just live with it. What comes later on, we will see then. Now we are here, once in a lifetime. And before us lie countries and encounters that promise so much that we don't want to miss.
Making plans offers apparent control over the future. But it also narrows you down. And since we don't have it under control anyway, whether we can then implement the plans this way, this self-created narrowness becomes all the more insane. Actually only stupid.
So: Let's drop some ballast again, throw our plans over the top, and, with joy, let's set off into the uncontrollable unknown! Whenever that may be!
And since the decision is made, we feel better again, here in our room in the Cabo Cush Hotel in Cabo San Lucas, which can claim the price for itself, to be the hotel room we have lived in the longest time in a row. And all the fears, all the stupid thoughts, all the stress are slowly dissipating in this mild full moon night on Baja California. We'll be all right!
Dear ones at home, friends and companions on our ways, (still) unknowns, are cordially greeted!
Heike and Toshi
Date: Tuesday, 13. November 2018, Position: Cabo San Lucas, BCS, Mexico, Mood: Top!!
In the end, everything will be fine…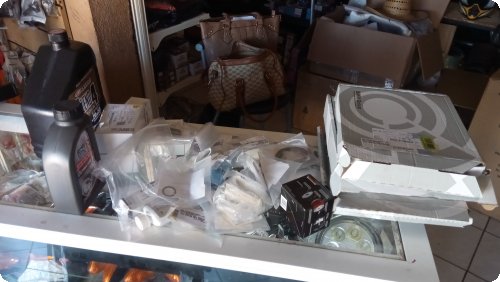 Almost a little fortune: BMW spare parts, fresh from the box
…and if it's not fine, it's not the end.
We were in the workshop at 9:00 this morning. Because Silvano, the workshop owner said yesterday when he called, they open at 9:00.
He had called to tell us that our spare parts are now in front of him. Since Heike had some (fortunately fast passing) stomach problems, we didn't hurry to the workshop, but set the alarm for this morning. We walked the 40 minutes, because it was still pleasantly cool in the morning.
When we arrived shortly after nine, the office door was already open. But the garage doors were still tight, and none of the guys were there.
We Germans… Punctually, where we should know better! 9:00 Mexican time! But also not really bad. We just wait.
Our parts have actually all arrived, and Silvano says, almost everything had to be ordered from Germany. The US dealer network for BMW seems to be simply sparing itself stocking spare parts for older models. Hmmm.
And Silvano and Angel have really got themselves into the pitfalls and shallows of the upcoming repair. Silvano answers all questions that I ask regarding the small peculiarities competently, informed and openly, giving us confidence.
He knows that this bike has to bring us home, and he will do everything in his power to ensure that at least the clutch and the transmission don't keep it from doing so! The way he showed us the spare parts reminded us of an art lover holding a valuable sculpture in his hands.
We are sure that the repair will be carried out with the necessary care and concentration, and decide to let the mechanics go to work alone.
We ask the two of them to take pictures and videos, perhaps want to drop in one or two times, but otherwise let them work alone. We know too many mechanics who get nervous instead of careful when the customer is standing next to them, and we don't want to do that to them.
For the very tricky work they have a trained BMW motorcycle mechanic as a friend, who will then assist them with the necessary special tools and the appropriate experience.
On the way home from the workshop, which we walk again, we stop the Taqueria "El Champion" for lunch. It turns out that the boss Guillermo, "El Champion", has been friends with Silvano for decades. He puts his hand in the fire for him without us even asking for it. He calls him careful, reliable and honest. If we had needed another reassurance, here it was!
The work should be finished by Saturday. We want to take the ferry to Mazatlán on Tuesday, and possibly move to La Paz on the weekend to get a taste of the air there.
We are so happy that things are starting to move now, and can hardly wait until the fat lady finally takes us to new destinations again!
Many thanks to all of you for your patience and support! If we have learned one thing during this difficult time, then it is: We are not alone!
This afternoon there was another special highlight: A journalist from the FAZ conducted a 40-minute interview with us via Whatsapp. We are looking forward to the article and are happy that Claudia made this contact.
We are slowly beginning to understand that we are not just making a journey that moves us and brings us forward, but that we are also moving things in people's minds. Talking to someone who doesn't really know much about us (of course, he read the blog…) brings new insights that we both might not have realized when only talking to each other.
Date: Thursday, 8. November 2018, Position: Cabo San Lucas, BCS, Mexico, Mood: Good!
Good Movies, Good News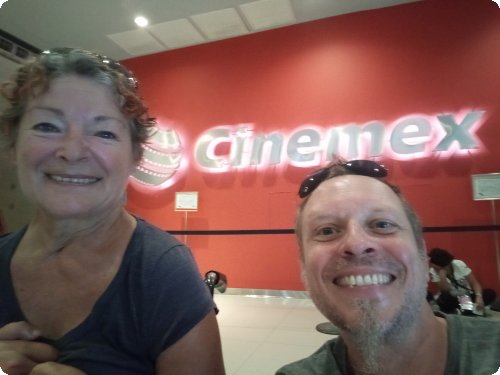 Cultural life: looking forward to a day in the cinema!
Did I say Cabo is making every effort? Cabo grows beyond himself to entertain us well. Yesterday we just got into the opening gala of the film festival without wanting to!
Actually, we just wanted to shoot some pictures of celebrities on the red carpet, and then upload them here for you in the evening.
But not only did we probably not recognize most of the famous and important people (so many festively dressed people came by), but mainly we only have photos from behind, because the places where you could have photographed from the front had grids with covers, so that Heike wouldn't have seen anything at all.
And then suddenly came this young lady with the tickets for the gala: First row, free of charge. Of course we took the opportunity, thanked her very much, and were glad that we at least had come in shirt and blouse (so that we didn't look too shabby at the side of the red carpet). However, I think I was the only gala guest who appeared in Crocs (these plastic clogs, and the only alternative to my motorcycle boots I carry). Anyway, the gala was great! We saw Terry Gilliam live (The Monthy Python's one), and the initiator of the Toronto Film Festival Piers Handling. Later they showed the movie The Favourite. We didn't get back to the hotel until 23:00.
We got up early, because Frank from Illinois, a hotel neighbor with whom we had long and intensive conversations during the last days (and especially in the evenings) and who we really grew fond of, left this morning. We had loosely planned to go out for dinner with him last night, but then we hadn't expected to go to the gala yet. This morning there was a rather quick farewell, because otherwise we would probably all have started crying. None of us wanted that. Just now we got his message that he arrived safely at home.
Yesterday we bought all our tickets until Sunday, and for the visit of 12 shows together we spent only 35 Euro. Using the advance sale proved to be wise. Today the cinema foyer was full as never before in the last days, when we tried several times to get the festival program. And that at 12 noon.
One of the festival concierges has taken us into his heart and always likes to chat with us. He congratulated us today on our film selection and on getting tickets for tomorrows show of "Fausto". This is a screening in the presence of participants, and it was already sold out this morning.
Well, today we saw At Eternity's Gate with Willem Dafoe as Vincent van Gogh, a really impressive movie. Then there was The Sisters Brothers, the first Western to be shot by a French director and shot entirely in Spain, very beautiful too, albeit much less funny than the trailer suggested. And finally Destroyer, a thriller with Nicole Kidman, and an absolutely unexpected and striking ending.
After the three films today we are a bit afraid of the four we have planned for tomorrow, because cinema all day long can be tiring.
We'll see. Tomorrow it will surely be a completely different matter again, because instead of the American productions that dominated our program today, tomorrow there will be three Mexican and one Swedish-Danish film. Probably a completely different way of telling stories. Even though the US films today certainly don't fall into the Hollywood mainstream category, and also, with the exception of Destroyer, weren't pure US productions.
It's really nice to do something completely different for a change.
Oh, over the whole festival euphoria I almost forgot the really good news of the last two days: Yesterday Silvano from the workshop called and told us that the spare parts are expected in San Diego, and the work on the motorcycle can probably start at the latest Monday. Today we got the confirmation from San Diego that the parts should reach Cabo on Monday. There is a good chance that soon we will not only be able to tell you about cinema events, but, as befits a travel blog, also about new travel stories.
Let's be on the safe side and not praise the day before the evening, but the end of the waiting is probably foreseeable.
Today we both said that after the long break it almost feels like the beginning of a new journey: What will it be like? How will it feel to be on the road again? How long will it take us to get back into this life on the road?
With these thoughts we will now go to sleep, and yet both of us know exactly: it will do us both good, and bring a lot of fun to be on the road again. Whatever it may feel like at the beginning.
Dear ones, a good night, a good day!
Heike and Toshi
Impressions from the Los Cabos7 Film Festival 2018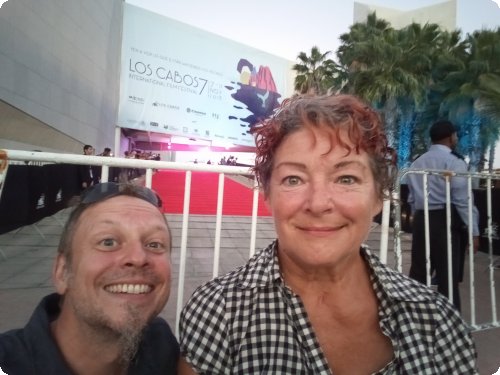 Los Cabos7: Am roten Teppich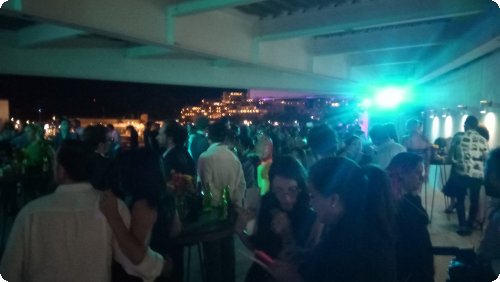 Gala: Los Cabos7, und wir sind drin!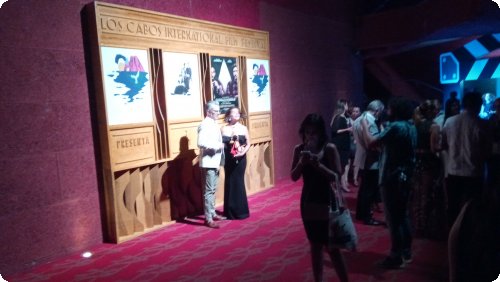 Mach mal Bilder: wir sind hier doch alle ein bisschen berühmt...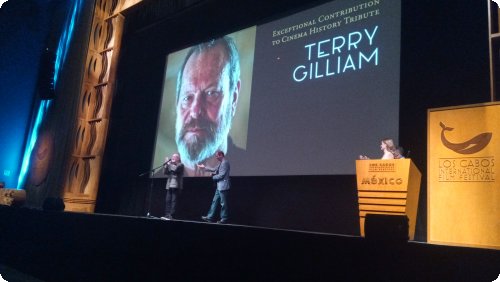 Ach, und Terry war auch da...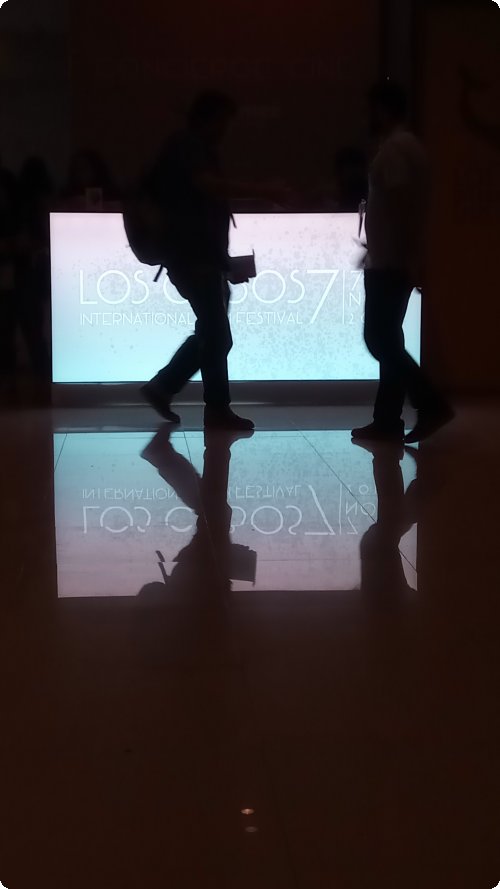 Reflektionen über das Kino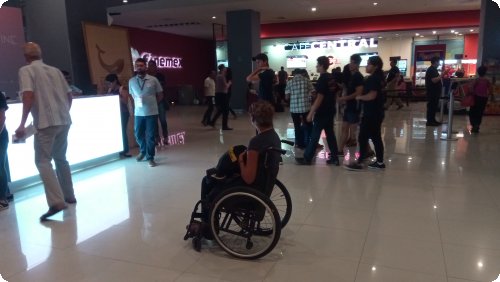 Ganz schön was los: Cinemex während der Festspiele
Date: Tuesday, 6. November 2018, Position: Cabo San Lucas, BCS, Mexico, Mood: Good!
One more night's sleep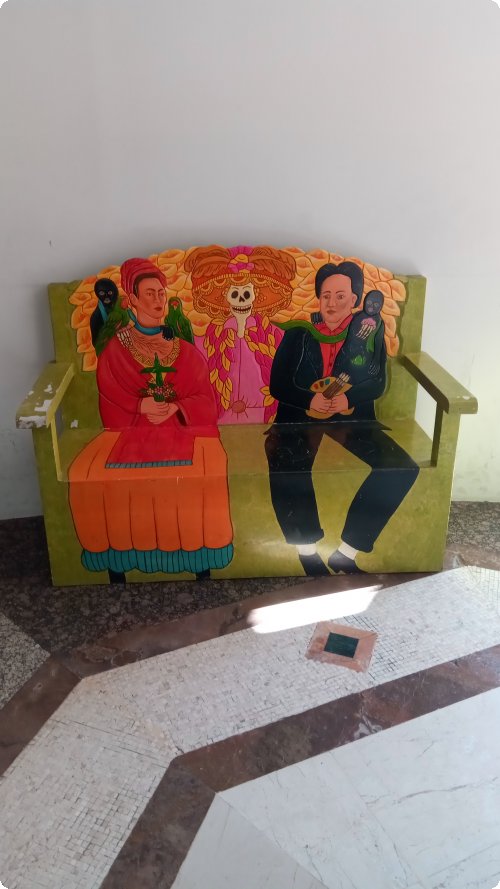 Come, sit on my knees: Frida and Diego
Yes, dear ones,
one more sleep, then we will find out whether we can count on our parts being here for the weekend or at least at the beginning of next week. Yes, patience is a virtue…
Meanwhile, I have started to wrest a picture gallery out of our blog software. Well, it wasn't that hard, just a little bit tricky. And thus actually a quite good distraction from the waiting.
We want to add more pictures to some of the older articles bit by bit, because they say more than words, as everyone knows. ;)
Oh, and today we actually got the program for the film festival into our hands! Now we have put together a reasonably useful timetable for the coming days. We are curious whether we will get tickets for all the films we would like to see. It probably won't be so easy again so soon to simply go to the cinema. So we want to watch movies now, until we have square eyes… ;)
Later we want to go downtown, and see if we can get some cinema tickets in advance.
Oh, where we went yesterday is the organic food store opposite the Pabellon Cultural. There we bought real German wholemeal bread (vacuum-packed, in slices), a piece of Tillamook cheese and a super delicious Greek yoghurt. Was that a pleasure this morning for breakfast! A real homelike snack for a change. We didn't know how much we missed that…
All the best and love to you
Heike and Toshi
Date: Monday, 5. November 2018, Position: Cabo San Lucas, BCS, Mexico, Mood: Good!
Let us entertain you!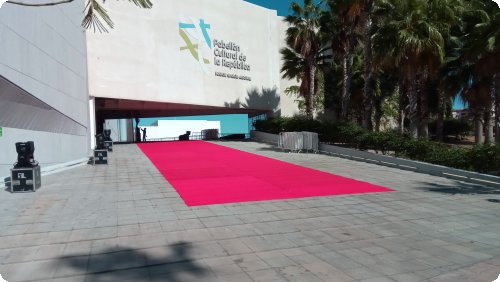 Waiting for the stars: the red carpet
Dear ones and beautiful ones,
one thing we have to say: Cabo San Lucas makes every effort to entertain us during the waiting time. So we also want to report about that, because there were already first comments that our blog is more entertainig when we are on the road… Only too true!
While the fishing competition brought a lot of people into town, the event itself didn't meet our taste. The concept of a fishing "sport" competition does not quite reveal itself to us. But we have already reported about that.
Then the Dias de los Muertes, which we really enjoyed and which gave us some very nice impressions.
And now, starting Wednesday, the international film festival CABO7 starts in Cabo.
Today we already took a look at the preparations at the Pabellon Cultural, the cultural pavilion, where the red carpet for the gala on Wednesday evening was already rolled out.
And we have already been to the cinema twice to try to get a program. Yesterday they said "Mañana", today at noon it was "Mas tarde". We'd better try again "Mañana" then… Two days before the start of the event there is no printed program booklet? Well, there would be one for download. But since the selection of movies is quite confusing, and many of them run parallel, we would much rather have a table on paper to tick our choice.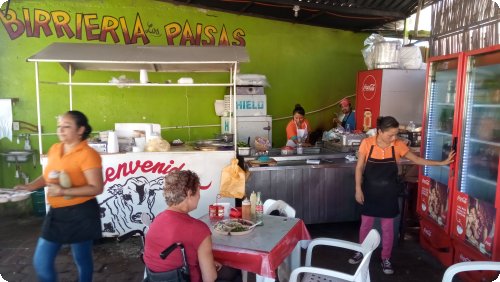 Folks kitchen: Birrieria
We are definitely looking forward to the festival, because there will be some performances with "Talento Invitado", with the presence of artists. And the performances cost about 2 Euro per nose, there are also two performances on the beach, and on Sunday, the closing day, all performances are free of charge.
We have no idea if this is a big thing and there is a big rush, or if we can just go there and watch movies. Well, we let ourselves be surprised.
And we ensure variety ourselves. A little culinary adventure today was our attempt to eat Birria. Birrierias are everywhere here in the poorer quarters, because it is a traditional stew, a poor people's food. Originally made mainly from goat meat, today also beef, strongly seasoned and sprinkled with vegetables.
The Birrieria we had chosen is located at a corner on the way to the city. Not really a quarter far away from tourism, but nevertheless this restaurant is completely in the hands of the locals.
Birria is unfortunately out at the moment. She could offer Menudo. Beside that there is "Cabeza" on the menu. We know from the spare parts research that the screw head is called "Cabeza". Head? Perhaps rather not…
When asked what Menudo is, she boldly grabs her own belly. Hmm.So either belly bacon, or innards. We decide to go for three beef tortillas, but want to try Menudo.
The tortillas and the soup that is served with them are excellent. In addition there is a pretty plate with cabbage, onions, cilantro (coriander leaves), limes and a pickled mixture of onions and hellishly hot habañeros. Red and green salsa are here on the table anyway.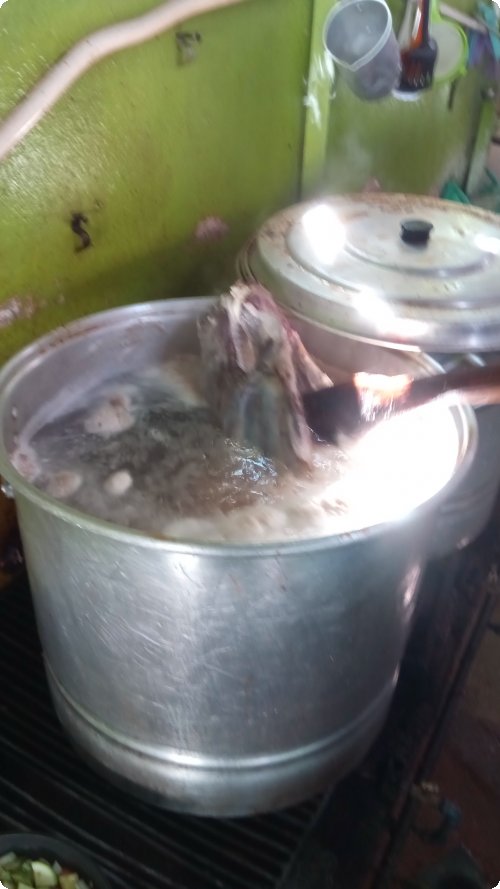 Not quite cooked yet: Cow's head in the pot (Cabeza)
And then the menudo is served. Heike likes the soup itself very much. Even better than the one that came with the tortillas, a kind of a goulash soup.

But she doesn't like to try the pieces of beef stomach. I eat everything up well. A lot of lime juice, coriander, cabbage and onions help against the quite strong aftertaste. After all, we are under observation of the entire kitchen staff! And I don't want to expose any weaknesses here. When my pot is finally empty, however, I happily decline the offered refill.
Meanwhile Heike just observes back and full of amazement sees a whole cow's head disappear into the huge pot. We are allowed to take pictures of the cow's head and of the Birria to be, which, right next to it, is simmering for the afternoon.
Menudo will not be our favourite dish, but still, we are full. At a price hardly beatable for Cabo. And so we want to come back the days to try it again with the Birria. Because it looked really tasty in the pot!
And then there was a call from the Sommergasse! Seppi, Jan and Lisa (brother, nephew, niece) talked to us, and it almost sounded as if they were standing next to us. We were so happy, and maybe actually chatted a little too long, seeing that the call from Germany to a Mexican mobile number is not quite cheap. In any case: Great thing! Thanks for your call!
The call from Angelika (and all the dear friends from the Horizons-Unlimited-Meeting in Sippersfeld) on Saturday (late evening there, noon here) was of limited information content, because the connection wasn't really good. But still it was a big fun and a good surprise or us!
And: It's really good to know that the telephone connection is working. Especially for emergencies that's a real reassurance.
To you, our readers, our companions, a nice evening, a good morning, a wonderful day, wherever you are and whatever time it may be at your place!
Heike & Toshi
Date: Friday, 2. November 2018, Position: Cabo San Lucas, BCS, Mexico, Mood: Good!
A blog entry for
YOU

!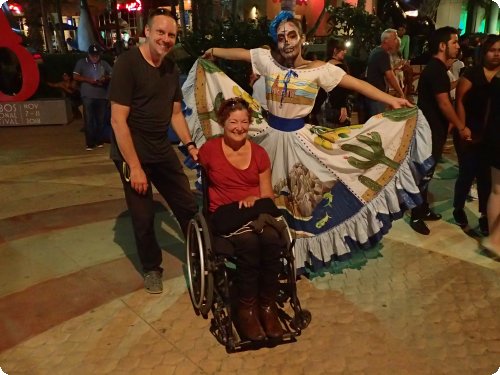 Living magic: La Catrina!
You who share the longing, the passion, the commitment, the visions and the energy with us. You who are compassionate, thinking with us in word, gesture and action. You who dare to think outside the box. You who make this world a better place in your own personal way. You who give joy and compassion without conditions.
You who have understood the spirit of our journey. "The only borders are in your mind! That is what we do: Traveling with a wheelchair and a motorbike. Explore our borders, find ways along the borders and outsmart them. Push the frame bigger. Leave our known circles; curious, at the same time scared of the unknown. Do it nonetheless. Dare to dare something.
You who have contributed to the fact that we can carry this idea, this spirit, further into the world. Now enriched by the experience of your manifold support, your sympathy, and your being with us. This is what we now carry with us in our bags. As well as the respect for all humans that you have shown towards us too. No matter whether we already know each other personally or virtually or maybe we will get to know each other in the future.
If we could, we would plant a tree for each of you, which exceeds everything beautiful so far. We would write you a poem that does not rhyme. Paint a picture that is as diverse and colourful as you are. Compose a symphony that can go quietly and softly, loud and pompously, be funny and get under your skin. Set a monument that no one can overlook anymore. Open an umbrella in the rain. Spark a fire in the cold. Bring on a light in dark hours. Organize a perfect wave on which you can ride safely. Light fireworks that couldn't be brighter, more beautiful or more colourful. Throw a party and invite all your loved ones.
Spread an unforgettable starry sky over you, so you can see the beauty of the night, and send one or the other wish to the heavens. Let stardust rain, simply because we like the thought of it. Let unicorns cross your paths to remind you of the imagination we are blessed with, and what is possible in this world. We would let the moon rise just for you to feel protected. We would assign your names to stars; and when we look up to the sky, we can see you!
We would let you take a look into a crater lake, touch the bark of a sequoia tree, sense the dampness of a rain forest on your skin, feel the modesty at the top of a mountain at the sight of the vastness around you, and let you enjoy the deep joy, the happiness, when seeing the smile of a child who receives a present. The slowly rising serenity at the sight of a cactus with tufts on it, and the childlike amazement at the discovery of the water fountains of passing whales, while you simply stand on a parking lot by the sea. The inconceivable event that takes place in us when we are inspired by people, landscapes, cultures and other living beings.
Thanks to you so many more beautiful, unknown, strange and great things are waiting for us and for you.
You are our heroines and heroes of the present!
Date: Thursday, 1. November 2018, Position: Cabo San Lucas, BCS, Mexico, Mood: Medium!
The Dancing Dead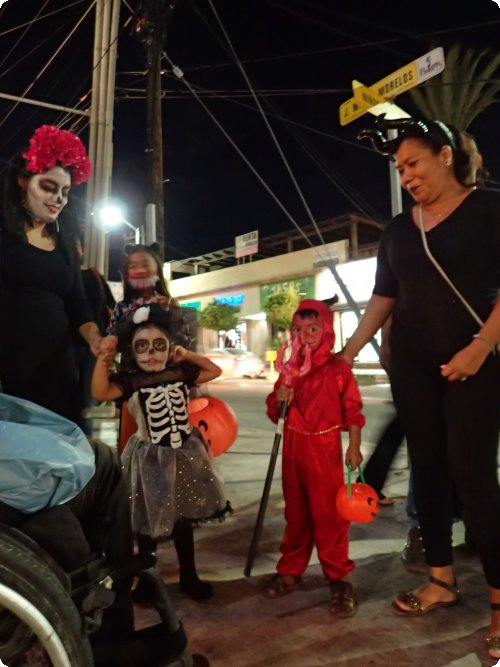 Going together well: Dead and Devil!
Yes, dear ones, that was an interesting, intense and long night yesterday. Especially the part of last night that belonged to today. We didn't get to bed until 4:30.

But one after the other: We absolutely wanted to be at dusk at the big street, where the children walk disguised from the suburbs into the city centre. For this we bought a large 1 kg bag of sweets. It was empty after about 30 minutes. Nevertheless, we didn't have to suffer anything even afterwards.
But we saw some beautiful costumes. The mummy children are especially popular, presumably because it is a rather inexpensive disguise: the child is simply wrapped in old stretch bandages from head to toe. Only the eyes and of course the mouth remain free. After all, they have to see where they are going, and a few sweets have to be eaten right away.
In Cabo San Lucas the traditions mix for Halloween and the Day of the Dead. Of course you can see many costumes that remind of death, and also the classic skull face painting with the flower ornaments and so on still has her friends. But many costumes are close to the American Halloween costumes. Still others have nothing to do with either one or the other, are not at all frightening, and could therefore easily be worn at the Cologne Carnival.
After the kid's Halloween/Dia de los Muertes we sat down in our favorite bar to watch the hustle and bustle on the street.
Fernando sat down with us. "Fer", as he likes to call himself, is 58, teacher at a handicraft school, a fine spirit and probably also a master of life. We had a long conversation about the world, learning, religion, politics, language, and what not. And that in a wild mix of gibberish Spanish, gibberish English, and a few chunks of German. He has visionary abilities, and sees things in our eyes that amaze us. The number of siblings, the position in the sibling row, such things.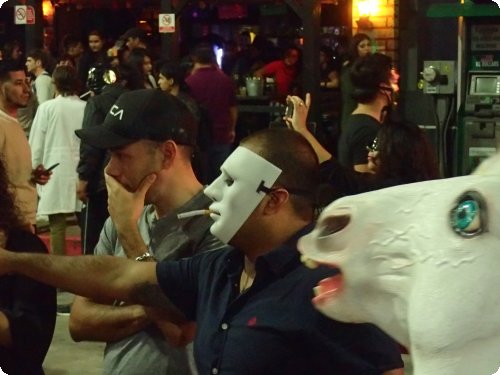 Smoking through the mask?!? The Unicorn later even drank from a can trough her mask!
Since the — in our experience otherwise quite well maintained — toilet of the bar was no longer safe to use that night (also due to the failure of the municipal water supply), we took the few steps to the hotel to go to the toilet. Here they refill water from a tanker truck every other day.

Then we went out again to see the hustle and bustle in the city centre. This is really wild and loud! It's like carnival! The streets are closed off, the police has put up a big trailer with a lifting tower in the middle of the square, which is even somehow "disguised". It flashes with red and blue ribbons, has a windmill and some solar panels, which are probably not at all responsible for the power supply. Rather for disguise.
Directly underneath, under the eyes of the police, we got the obligatory drug offers, which you can get everywhere in the evening. If we hadn't had no desire for illegal drugs anyway, we would have refused here at the latest! Stupido!!!
Otherwise, as already said, it is loud without end, and a single wild party in the streets of the city. Exhilarating enough to watch all this. But also exhausting, which is why we retired to the quieter climes at our favourite bar. Whereby: It wasn't quiet there either. People driving their cars around in circles, the police has blocked the entrance to the city, the traffic stands more than it goes. Exhaust fumes, loud engines, horns, music, lights, masks, yelling. To process all kinds of things, here!
And then there's a parked car that keeps opening the driver's door and stopping the traffic. Once police, siren, the policeman gets out and closes the door. The police drive on, the door opens again. So the game goes on for a while. In the back seat sits a woman who obviously needs a lot of fresh air. It takes several attempts, and some policemen and women, to convince her to leave the door closed.
In the meantime some costumed people came by. It's funny when an entire family of dead people passes you in a pick-up truck. Or the beach buggy with the two guys with the Mexican wrestler masks.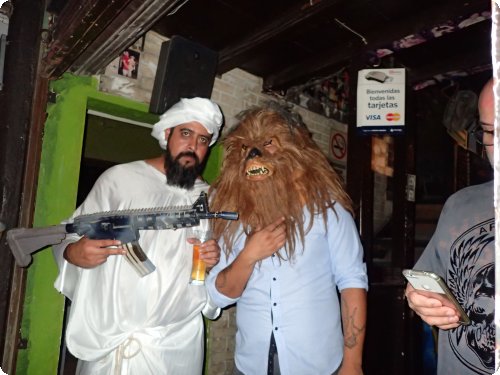 Welcome to The End Of The Universe: Osama and Chewbacca
And then, all of a sudden, Osama Bin Laden shows up. The owner of the bar has really tried his best with his costume. We're afraid that he might get shot by the CIA… When he poses for the photo with Chewbacca from Star Wars, we're sure we've landed in the Restaurant At The End Of The Universe.
Back at the hotel, it's already two o'clock in the morning or so, we're sitting at the table in the patio. The hotel employee about whose interesting way of speaking English we have already reported comes by. Now we also get to know his eventful life story, 17 years in prison, the desire not to belong to the criminals, the belief in God, the help of friends, his philosophy to want to do the right thing…
Hours pass like a glimpse, and we fall into our bed tired to death. And again we feel richer, with so many new impressions, memories and emotions!
Accordingly we slept long today, and the thirst for action was somewhat limited.
Tonight we had a Chinese dinner. The city seems to feel a bit like us today: Everything is quiet, hardly any people on the streets and no trace of yesterday's excitement. At least not in the places where we went today.
Date: Wednesday, 31. October 2018, Position: Cabo San Lucas, BCS, Mexico, Mood: Have felt better!
Disappointment…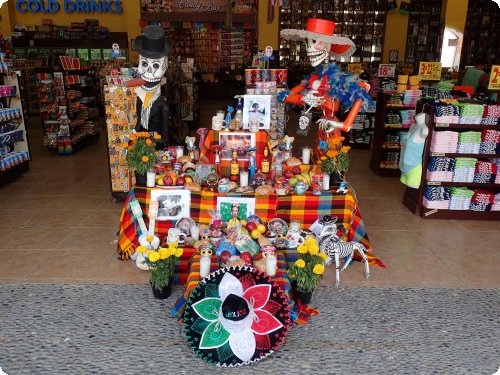 Colourful and flashy: Ofrendas in a tourist shop
Dear ones and good ones at home and all over the world!
Yes, the mood today is really a little depressed. The day began well, with the anticipation of the Dias de los Muertos, which became visible today with the first Halloween costumes and the corresponding decorations in restaurants and shops. The continued enthusiasm for the support we are receiving. And the expectation that we will get good news from San Diego, where our spare parts should arrive today.
Well, the real shocker (and that was the message responsible for the "Ging schon besser" – "have felt better" – mood) was that although a lot of the spare parts are available in the USA, some parts have to be delivered from Germany. An additional week waiting time is calculated for this. That means: on November 7th the parts will reach San Diego. At the earliest on the following Saturday we can count on them being here. And then the big lady still has to be repaired. For that we count a few more days. We will probably gather a full month spent in Cabo.
This is annoying, and it depresses our mood. And all the more if we bear in mind that the whole mess may only be due to a mess in a BMW authorised workshop, but that BMW Germany, upon the request of two friends, simply recedes to the fact that they could only help us if the big lady were in a BMW workshop. Now, the next one is just a few hundreds kilometres away. We would never have made it there. On the Baja itself there hasn't been an authorised workshop for years.
Dear ones, nevertheless, we simply won't let it get us down. Because we have you and your overwhelming support on so many levels. But we think, we have a right to feeling a bit miserable. ;)
Well good. Tonight we want to have a look at the hustle and bustle in the city, and we are really looking forward to it.
Date: Sunday, 28. October 2018, Position: Cabo San Lucas, BCS, Mexico, Mood: Top!!
Speechless in Cabo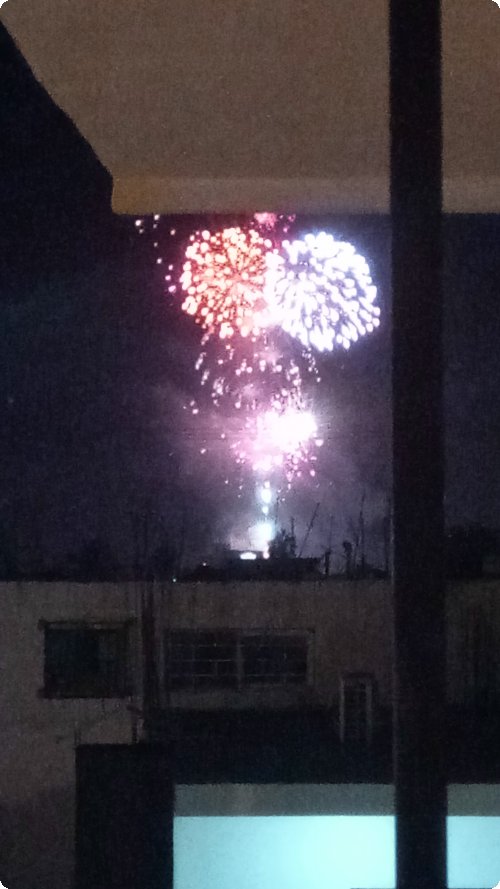 And all that! And then almost daily fireworks!!!
Uiuiui! We can hardly believe what is happening around us!
Not only that the donation amount is growing in a way that is completely unexpected for us. We would like to say to all of you that we can't thank you enough!
But also, how creatively some friends take care that the action becomes known! There is sharing, emailing, and what not!
But the absolute hammer is probably the video about us, which Sir Arthur put on his Youtube account (with about 3000 followers worldwide!). Somehow "larger that life", such a film. Are those really us?!? We just took a little ride on our motorbike…
Mannomann! We are really impressed and touched what you come up with, to help us, to shorten the waiting time, to brighten our minds. And how you give us the feeling that we are not alone, no matter where we are in this world and what is bothering us or saddening us.
What does Janosch's children's book "Oh how beautiful is Panama" say so beautifully? "Whoever has friends has nothing to fear!" And that is true!
Date: Saturday, 27. October 2018, Position: Cabo San Lucas, BCS, Mexico, Mood: Top!!
What friends we have! ¡Muchas Gracias!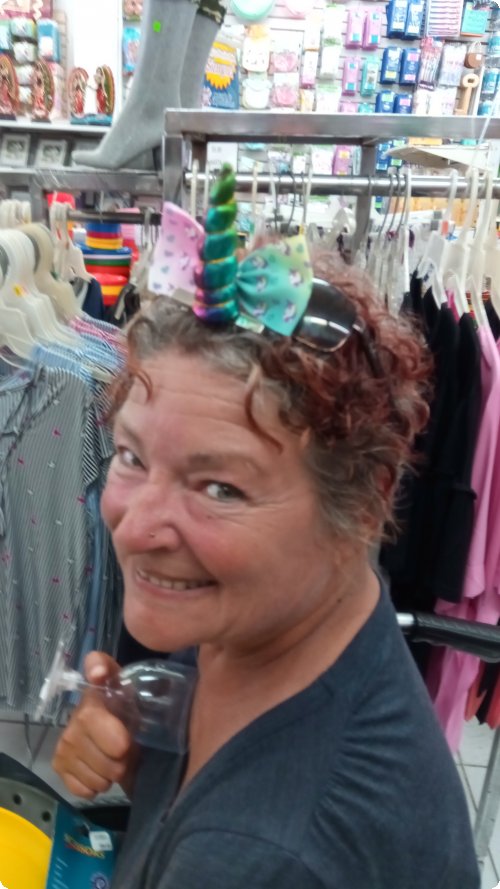 High spirits! Heike as Rainbow-Unicorn! (specially for brother Dave... I didn't tell her I was going to publish this ;) )
Dear ones!
we would never have thought of it ourselves.

After all, it's not that we didn't expect one or the other repair. But now that we have a reliable estimate for spare parts and labour costs, our courage is a bit sinking. To have to cope with such a huge expenditure so early on, really does give our perspectives a considerable shake!

Our friend Claudia has sympathized and thought, and has simply spontaneously set up a "donation page on GoFundMe": https://gf.me/u/m6sxvz!
That makes us very happy, and we are really happy to have such friends! Not only for settiung this up, but of course also for all donors very many thanks!
And to all who are with us in their thoughts, and who perhaps can or want to help with good wishes rather than with cash: Many thanks also to you! We appreciate that you are there for us!
We really have it good, haven't we?
All the best!
Heike & Toshi
(Translated with www.DeepL.com/Translator)
Date: Friday, 26. October 2018, Position: Cabo San Lucas, BCS, Mexico, Mood: Good!
Thoughts…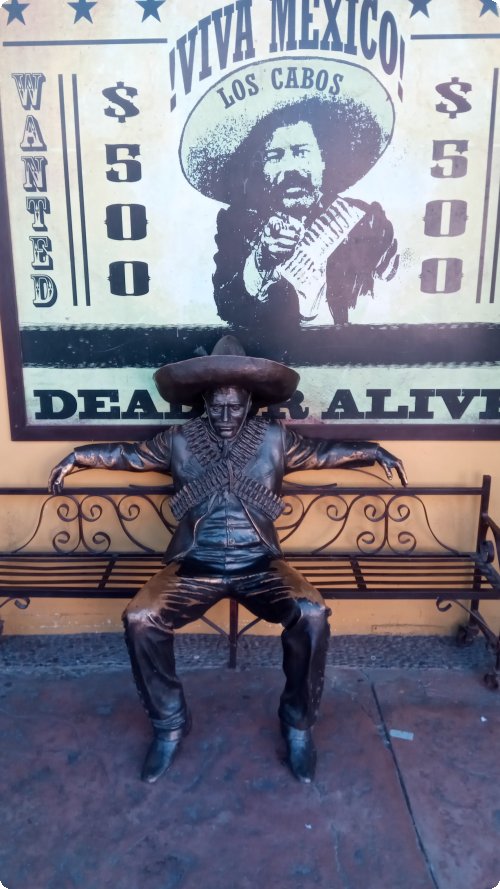 Cash lures here as well. But then, that guy was a little heavy!
Hmmm, so when I look at yesterday's post, I notice that I obviously cannot stop talking about the USA. I wondered about myself and thought a little.
In the end, yesterday I really understood for myself what I simply don't want to leave alone about this country: It is the realization that in one of the richest countries in the world it makes such a difference whether you are blessed with a smaller or a larger budget. Whether you are a citizen of the country or a traveller.
The gap between the rich and the poor is not only very wide in the area of luxury goods, but also in the area of everyday life and basic services. This is a state that at least I myself have always associated with developing countries, and it shakes me again and again to see that this seems to be quite normal in the USA, and apparently hardly anyone takes offence at it.
And when I notice that one of the cheapest hotels in Cabo San Lucas, Mexico (an emerging country!) offers a more stable and faster internet connection than we found in most of our hotels and motels in the USA; and when I notice that I am provided with good to very good mobile data connections almost everywhere in Mexico (compared to the USA at a ridiculously low price, of course!), then this astonishment simply comes up again and again.
So, anyway: hand on heart, I will pull myself together in the future, so that this remains the last reference to the conditions in the USA.
Well, not everything that glitters is gold in Mexico either. Today we tried to get dollars in cash. We want to settle the bill for the repair and above all the spare parts in this way. Because we think a bit ahead, we thought we'd feel how to do it best and at the best price.
There are dollar machines everywhere in Cabo. Cash machines that spit out only dollars. But they just stand around at street corners and are therefore not really the most trustworthy machines.
So we asked at the Santander bank, after all we have a credit card from this bank. Withdraw money? With a foreign card? Here? No! And with a smile we are almost complimented out again.
The next bank, refined strategy: We have problems with the vehicle, and need cash for the repair. Can we withdraw larger sums with the credit card, and also in dollars? Or change euro cash? We could get up to four hundred dollars at the bank's own machine. After all. But changing Euros is not possible here. But Citibanamex takes Euros.
So we go there. Yes, they take Euros, but the maximum is 250 Euros per day per person. After all, that's 500 a day. It feels like it takes an hour, the Euros are certainly counted a dozen times per stack, and the mixture of old and new 50 Euro notes briefly creates confusion, because it is not clear which is front and which back, and which way they therefore belong into the stack. At the end we get the pesos handed out — wait a minute! We wanted dollars! So everything again, only this time a little faster, and without new passport copies and the like.
At least we realize that we got a very good exchange rate when exchanging cash from Euro to Peso as well as from Peso to Dollar. Of course, with such an exchange rodeo, money always falls by the wayside. But at the machine (some of them do the exchange into the currency of the issuing country without being asked) we have already seen rates that are up to 10% worse than the actual daily rate! That's a nice place to make money.
Well, at least now we know that we can change cash as well as get dollars at the machine. Not quite easy, but possible. Also for larger sums, only then just not everything in one day, but in pieces.
So far in the meantime. Today it is a bit overcast here, but still quite warm. You could almost call it sultry again. By the way, even if it felt like it would these days, it did not rain.
Be hearted and hugged,
Heike and Toshi
(Translated with www.DeepL.com/Translator)
Date: Thursday, 25. October 2018, Position: Cabo San Lucas, BCS, Mexico, Mood: Good!
No (or small) adventures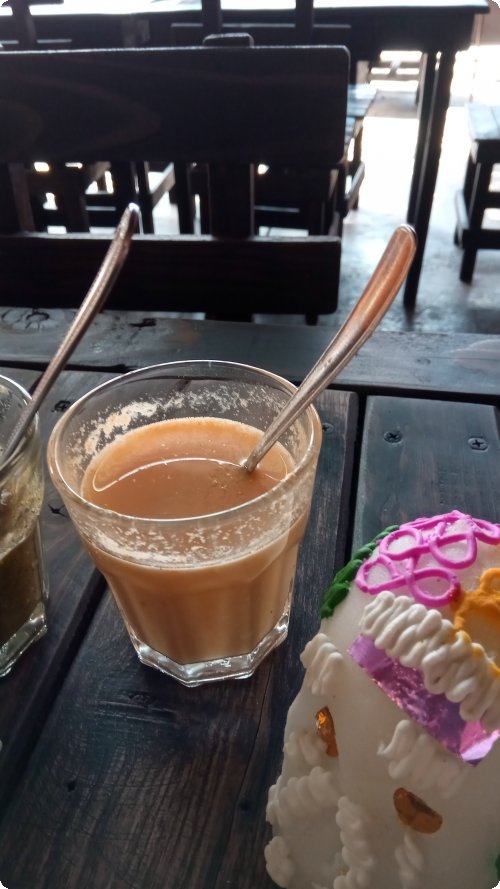 From left to right: Not harmless at all! (Caution! The lightest sauce is the hottest!) Mostly harmless! (Skull made of sugar)
Olà, dear ones and good people all over the world!
It's time again for a blog entry. Even if actually very little exciting has happened.
Let's start with some good news: The parts for our fat lady are ready assembled and ordered. So we're making progress.
But we're not planning anything yet, because: The parts are expected next Wednesday in San Diego (7 days delivery time! ). This is a US-American time indication. The US-Amis think big about their reliability, and warn us that a "Mexican Fortnight" can by no means never ever be 14 days, but rather one month. Well, our experiences with the "guaranteed next day" delivery of our intercom batteries put the whole thing into perspective. We never got them. Neither have we ever seen again the 60 bucks we paid for the express delivery. So: Tranquilo, tranquilo, and just wait and see.
Meanwhile we stretch out our antennae further and further into the city, and somehow feel a little at home. Like Heidelberg, this city also has an inner city dominated by tourists, and less touristic suburbs. Ildefonso Green, where we live, is located at the tourist border like the western city of Heidelberg. In one direction we are immediately in the hustle and bustle, in the other we are quickly outside.
Of course, we have already identified a few favourite restaurants in the meantime.
One is Jo's Garden, where we had already been with Nigel and Lee, and where they have simply fantastic pizzas, and we can relax comfortably between travellers and locals. It's a little further away, but we've found a nice shortcut that will take you around the restaurants of the tourist mile with your "Come-In!!!" rat catchers. And it's not exactly the cheapest. But just super tasty! They also have sushi there, but we haven't tried it yet.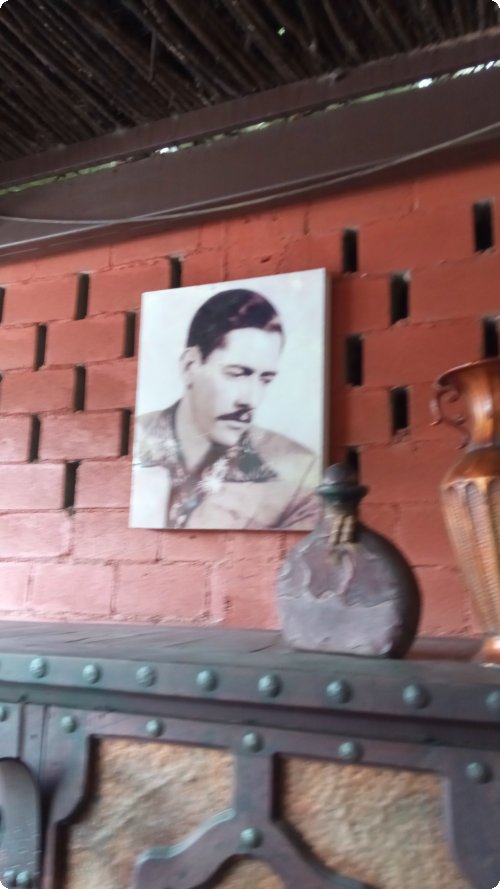 Ancestor: Don Juan watches over our breakfast
Then, just a few steps down the street from the hotel, there is Los Claros, a more touristy fish restaurant (but also popular with locals!) with a small menu, and hellish hot sauces for the tacos, which are filled with all sorts of things from the sea. Of course there are also Ceviche-Tostadas, a kind of salad of raw fish on a hard tortilla. Delicious!
And the Pollo de Oro, around two corners of our hotel, offers everything about chicken. The Mexican "Wienerwald", so to speak. Only better. You can also have an excellent Mexican breakfast there. That's almost enough until the evening. And they have home made lemonade and freshly squeezed juices. And you can sit nicely on top of that, if you disregard the noise of about one hundred million fans. There are real plants and a well in which the birds bathe. Since the restaurant is only covered, but otherwise almost outdoors, you have shade and fresh air at the same time. Wonderful!
Not to forget: Right next to our hotel is the breakfast and lunch restaurant Casa de Don Juan that is only open from 8:00 to 14:00. It is a small oasis of peace, and has quite wonderful Mexican food that is prepared and served with much love and amazing details. At the moment, small skulls made of icing sugar decorate the tables according to the season. When we ask for the person shown on the photo on the wall, we get a short family story, and are invited to look at the pictures inside as well. Wonderful paintings from the hand of the boss.
And, what would we do without the Oxxo shop down at the street corner? It's our coffee source in the morning, and in the evening we can get beer there. And everything else we need. In the meantime everyone knows us there, and I am often greeted with "Mas Americano? Because I always get "Americano Intenso", which actually tastes like real, good coffee!
Apart from that, the "Richest fishing competition in the world(!)" has been taking place here in Cabo since Tuesday. An event, of which you can tell by its name, that it mainly attracts US audiences, and which is certainly organized from there. It is crazy to see the masses of deep-sea fishing boats lying in the marina. Where we know otherwise in Marinas sailing masts close to close (at least from Europe), here the oversized high fishing towers on the very, very neatly motorized Powerboats characterize the picture. Sailing is probably not the case here. There would be enough wind, and it would be nice for sure.
The day before yesterday we sat a bit at the harbour and tried to sniff some competition air, but a fishing tournament can't really carry us along.
Basically we sit quite a lot here in the patio of our hotel, enjoy the excellent WiFi, which is better and more stable than many we found in motels in the USA (and of course also than many in restaurants or cafés here in the city).
We use the time to research and plan what to do when the big lady is fit again.
We sift and sort pictures and impressions from the journey so far. Heike took the trouble to review the last months and years before our trip and wrote everything down.
Of course, I also spent some time checking the parts list for repair, and exchanged a felt dozen e-mails with Justin from San Diego, who orders the parts and sends them on the journey to Cabo.
But that's now done, and all we have to do now is wait until the chunks arrive here. Then we will probably visit the workshop again more often, and certainly also do some hand work. In any case I will probably learn one or the other. I haven't dared to try a gearbox yet, and I'm as excited as a flash bow.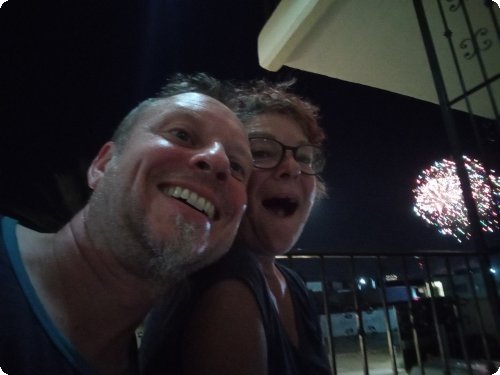 Fireworks for us? That wouldn't have been necessary!
Here in the hotel, when you sit around like this, there is also a lot to observe. Just like of course we are also observed.
Every day our two housekeeping ladies ("Limpieza?") come and fix our room. Always friendly and attentive.
The boss of the hotel is also very inclined towards us, although he really looks a bit dangerous, and we have already noticed what it looks like when he is not so friendly to someone. His big massive figure, the dark beard, the shorn hair and the tattoos then underline the respectful tone so to speak perfectly. Ui!
Then there are a few US-Amis, who slowly come into contact with us. First of all Frank, an ex-policeman from Illinois. He is impressed by our trip, and warned us most urgently of Mexico mainland. Quite contrary to our friends, Judith, Thor, Martin, Lee, Nigel, who had travelled ahead and who (except for the rain and wind of Hurrican Willa) don't report any great dangers, Frank has never visited the mainland. The same old story: Especially those who haven't been there yet are the biggest warners. Ask Columbus about the dangerous waterfall at the edge of the disk!
Then there is the dynamic beer buyer, who seems to have learned his English from drunken Americans. If he speaks Spanish, his pronunciation is as clear as a German autumn morning. If he speaks English, it sounds as if he has already intushed considerably more than necessary. Early in the morning! ;)
And the eighty-year-old, who every morning carefully removes the dust from the railings, table and chairs, pours the flowers, but leaves the floor cleaning in the patio mostly to the seventy-year-old, who then leaves the emptying of the cleaning water to the eighty-year-old again. In a large arc, the cleaning water goes from the first floor into the dust of the parking lot. A drop on the hot sand!
And the guests. Everyone who passes us on the way to the parking lot greets us more or less. We learn that you can say "Buenos Dias! as well as "Bueno Dia" and all combinations with and without 's'. That it is not always clear whether it is already "Tardes", or still "Dia", or perhaps also already "Noche". That you are almost always right with the short form "Buena(s)…", or you can simply say "Que Tal?" – "What's up?".
So embedded in the language, confronted with it on a daily basis, we learn one or two new things. Nevertheless, some rules and most subtleties remain closed to us. For this we certainly need a course at some point.
Only the technical vocabulary has impressed me in the meantime: el embrague, los valeros de la caja de cambios, el tornillo y la tuerca, el arbol de ingreso y el arbol de salida… All important, but we hope that we won't need it so quickly afterwards. So hopefully(!) useless knowledge! Well, who knows me, knows that I have a weakness for it. ;)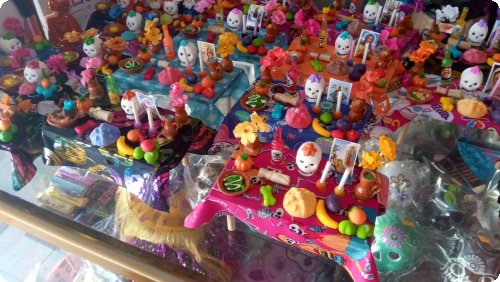 Gift tables for the dead: Ofrendas
In fact, we thought about using the waiting time for a Spanish course. We still hesitate because we think that in Guatemala we will probably get much cheaper (and nicer) offers than here. Well, maybe we will ask the language school across the street. Who knows?
And of course the Dia de los Muertos is getting closer. Yesterday in our favourite bar (like our beloved P11, we didn't visit it every day; but we already chose Lee and Nigel as "best bar in town", and they have a spacious clean toilet!) we had a longer conversation about the custom. The bar owner (or whatever he is connected to) told us about it when we asked him, among other things that the custom is not as widespread as we thought. He estimates that only about half of the Mexicans celebrate the day intensively. Of course, we also read ourselves a bit, and among other things we also found this nice video to the Dia de los Muertos. His recommendation by the way: The movie "Coco" from 2017.
In the course of the conversation we came across the Dia de los Muertos scene in the 007 film "Spectre", which shows a parade. There is no such thing traditionally, but the Mexican Tourism Minister allegedly ordered that such a parade should be held in Mexico City, so that the tourists are not disappointed. Last year, 250,000 tourists came to Mexico just to see the "traditional" parade of the Dia de los Muertos.
The theme of faking "history" brought us to the Hotel California story. And he told us that some time ago there was probably a legal dispute between the Eagles and the hotel because they wanted to participate in the turnover. They lost because the hotel actually doesn't give any indication of any connection with the song. You can't even explicitly wish for the song there. The playlist is fixed, and the barmen can no longer exert any influence. In former times this was still possible. Probably before the legal dispute… ;) The Eagles themselves say that the hotel they had in mind was not called Hotel California. We expressed the idea that "The Hotel California" in the song might only be called that because it can be abbreviated with THC. Fits somehow to the lyrics, and made him think a lot… ;)
And then we somehow came across the Alebrijes. Colorful mythical creatures from papier-mâché, which are composed of different parts of different animals. To me the name seemed so much like that of the Elwetritsche from the Pfalz (yes, Corina, also Rheinhessen, right?) that I thought, someone could have noticed this already once. It is probably not, or rather: Google finds nothing to it. But here, too, it turns out after some research: The Alebrije are not a traditional Mexican tradition, but a papier-mâché artist invented the animals after a "dream" at the beginning of the 20th century. So the name could actually have been derived from that of Elwetritsch.
That doesn't mean, of course, that the Alebrijes (or their name) come from the realm of plagiarism. The figures themselves are already clearly different from the Elwetritsche. And already Umberto Eco has spoken about ideas that you think are your own, only to find them later in books of which you know for sure that you have already read them. You just couldn't remember it. Sometimes a bizarre brain that we have there!
So far for the moment, dear ones. Let it go for you well, and send from time to time a few good thoughts wherever ever, so that our waiting time does not become too long! And of course we are always happy about entertaining mails from your everyday life, which sweeten our waiting.
Very cordially,
Heike and Toshi
Date: Saturday, 20. October 2018, Position: Cabo San Lucas BCS, Mood: Good!
Update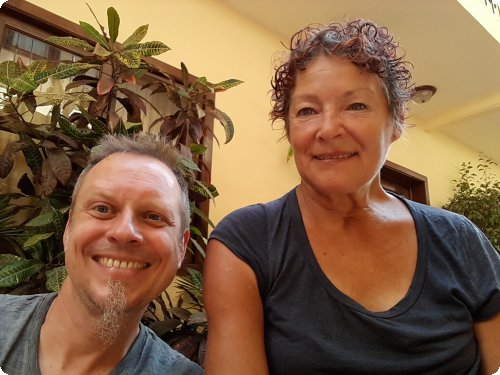 Everything new: We already have hairstyles, gear bearings and clutch are still to come...
Hola, dear ones, good and beautiful!
We would like to take this opportunity to thank you once again for all the good words, your sympathy, constructive ideas, support via telephone, encouragement and a few jokes, of course at our expense ;-)!
Since Wednesday nothing essential has happened. We both went to the hairdresser, cleaned our laundry, transferred our USA trip to a map, and waited. "Call me back later", "Tomorrow my brother says…", "I mail you"….. it was said daily from the workshop. Yesterday then a life sign of a mechanic from BMW in San Diego, who takes care of the necessary parts. Since he wished us a nice weekend yesterday, it was clear that no further information about when and how much to expect at the weekend. That's the way it is so far. We expect another week here for now. Then we will concentrate, on the good advice of several friends, on being. And that makes sense for us!
So what do we have here? Cabo San Lucas is the holiday paradise of the American middle class. This is where the deep-sea fishing competition begins – the biggest in the world – of course ;-)! Every day more and more hobby fishermen come. The harbour fills up with gringos.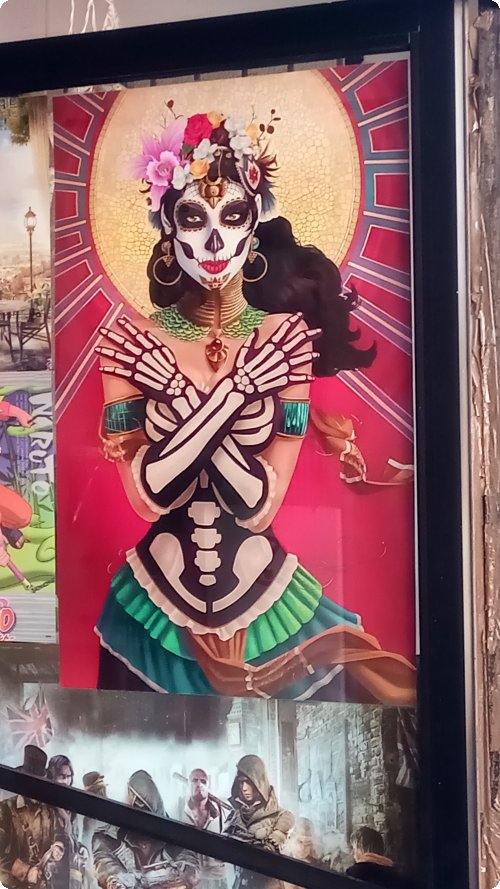 Look forward to it: the Dias de los Muertes are near!
The sun shines every day. It has about 27 to 30 degrees. In the evening it gets pleasantly cool, a breeze blows. The Oxxo, a jump away, and Mexico's food chain, has a very good coffee, and what else you need every day. Since we now have a refrigerator, we now have the essentials here. In the meantime we have discovered a nice bar. You sit on the sidewalk and have a lot to look at. We have come to appreciate three restaurants, which are mainly frequented by locals, because of the food and the interior. In our pretty hotel we are now regarded as inventory. It lies away from the hustle and bustle in a neighborhood where mainly locals live. One could imagine the western city as an example. Everyone is friendly to us. In front of our room we have a shady place, which we use alone so far. Here we write, read, listen to music. In the evening geckos walk along the walls hunting for spiders and other insects.
In Mexico everything is preparing for Halloween, but especially for the Dias de los Muertes on November 2nd. Everywhere are black plastic roses, colorfully painted skulls, optionally made of sugar with colorful icing, skeleton garlands to buy. Houses covered with spider webs; shops decorated with masks, costumes and skeletons. We have heard that the Dias de los Muertes must be spent in a city because people paint, dress up and celebrate!
My illnesses, which I hatched during the recent developments, are receding again. A few really good thought-provoking impulses from friends made me realize that I don't have to distract myself from waiting with illnesses. There is really nothing to do! Be! Breathe! Breathe! Fuck you, b Fuck you, stupid thoughts. To hell with you.
We wish you all a nice evening and a relaxed Sunday!
Hugs and Kisses, Heike and Toshi
Date: Tuesday, 16. October 2018, Position: Cabo San Lucas, Mood: Good!
News from the transmission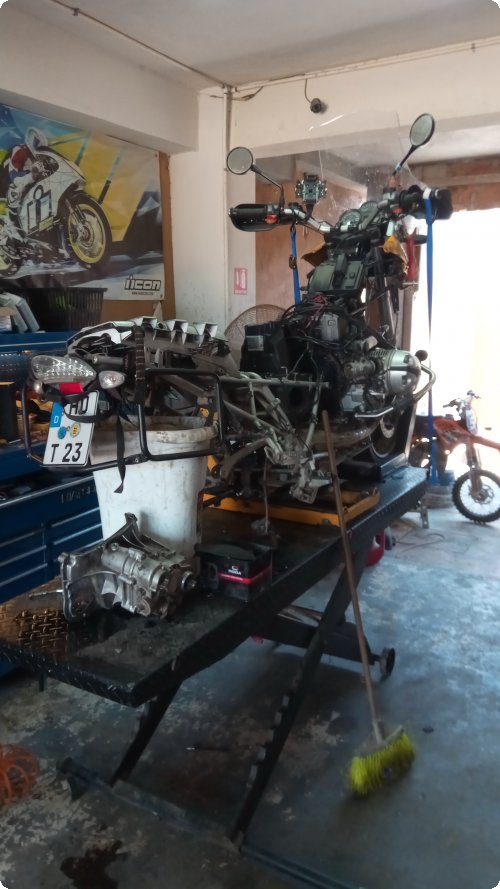 On the operating table: the big lady in two halves
You dear and good at home,
We were back in the workshop today and this time we had a really good feeling. Even though the thick one was completely disassembled and the gearbox wasn't open yet, we could at least see immediately that the clutch wasn't in order anymore.
It took some convincing to take a closer look at the gearbox. During the violent turning of the input shaft, bearing noises were clearly visible. This also convinced our two Mecanicos!
After a long WhatsApp phone call with our GS guru Michael and the exchange of some pictures we were sure that the incorrectly centered installation of the clutch possibly led to the bearing damage. And this from a certified BMW workshop! I am correspondingly angry, but in Mannheim you will hardly feel it.
After all, the discussions with the mechanics showed not only that they listen to my suggestion, but also that they have their own good ideas on how to solve the problem. I learn Spanish like hardly any other language. And a lot about our thickness! Fantastic!
In any case, the intensive cooperation with the mechanics makes us confident that the repair will last.
We spent some time in the workshop and all of us were very busy with our work. In the end even one of the employees helped us to call a taxi.
After the cheaper taxi ride home to the hotel this time, we were able to stay longer in Lee and Nigels hotel room, where we moved this morning, because it is much quieter and brighter. And this for a special weekly price!
To celebrate this rather successful day we went to a cheap seafood restaurant, just down the street, and had a wonderful dinner.
Even though the day actually started very sadly, because we said goodbye to Lee and Nigel, who have to move on due to lack of time. We have full understanding, but I think it was sad for all of us anyway. Just now we read that they were camping happily on the beach and had some adventures. Hey Guys, we wave to both of you in our thoughts and say 'Cheers! but Betty is calling!
Greetings to all of you at home and around the world. We are well!
Date: Monday, 15. October 2018, Position: Cabo San Lucas BCS, Mood: Have felt better!
The big lady: First results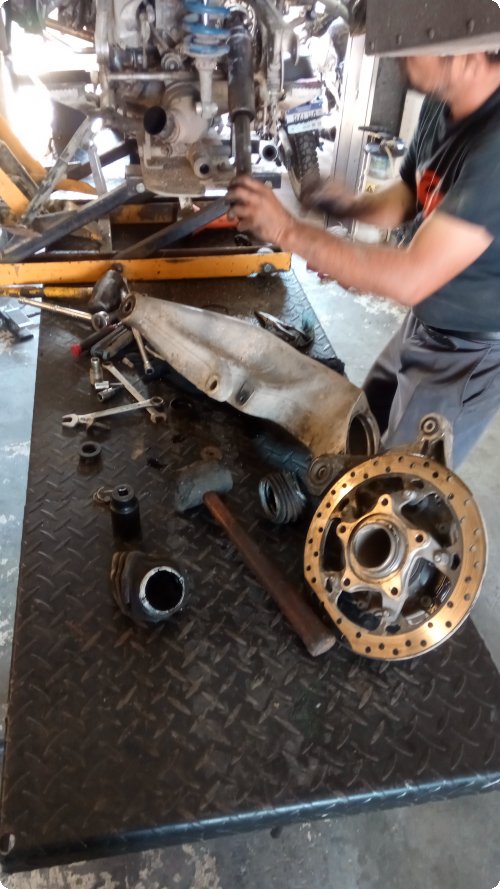 Open your mouth and Aahhhhhh! The big lady at the doctor's
Dear ones, beautiful ones and good ones!
That is what you remain! Even if we are in a very depressed mood today.
Well, our big one is at the uncle doctor's. He's just checking while we're back at the hotel to see what she has. She's probably divided into two parts now. It was very emotional to see her being screwed apart bit by bit. To see her naked and unprotected. The Mechanico, I think, was quite happy when we finally left. Like concerned parents we stood behind him for hours. But he was open to hearing what Toshi was contributing. It is rare for a doctor to pay attention to the contributions of the parents. He didn't become unfriendly or anything, he endured us quietly, friendly and smiling. Leave her there, however, was like leaving his baby alone in the hospital. To cry simply! And her parking space here is empty :(.
Ok, what happened today: First we went to a scooter dealer. He admitted not knowing enough. He would have a friend who knows BMW's. But he was an hour away and we didn't want to challenge our luck to get stuck somewhere on the way. So we went to the garage that Carla (Carla: Thank you very much:) recommended. That's where they really got themselves into. I have a good feeling! And that rarely deceives me. Tomorrow we'll know if it's the clutch or the gearbox or both at the end. If that were so, it would shorten our journey by 2 months. Mmh, Elsa: Are you behind it because you would like to have us at home soon ;)? We will report tomorrow.
Have a wonderful day! Keep your fingers crossed!
Your so sad Heike today and your Toshi!
Date: Sunday, 14. October 2018, Position: Cabo San Lucas BCS, Mood: Medium!
Developments
Patio of our hotel overlooking the street
You beautiful and good people of this world!
We are still here in Cabo San Lucas.
The transmission problem kept us on our toes yesterday! We contacted, googled, researched, made videos of the noise, posted, discussed with Nigel and Lee.
So we refrained from letting anyone get to the big lady yet. Grizzly, Ralph and JoJo, thank you! And thank you all the others who are there for us with tips, encouraging words, smilies and jokes, even in not so good times! I think it's called friends :-)!
Since we can't drain the transmission oil here in the hotel, as Grizzly recommends to us to check if there are chips in it, Toshi and I decided to stay another night here in Cabo to visit the local motorcycle workshop tomorrow. There Toshi wants to drain the transmission oil and check what it has in store for us before we drive the 200 km to La Paz. Yes, and let's be honest: The whole mess is better here than in the jungle of Guatemala!
We have found then nevertheless still a few nice corners here! Especially a pizzeria, Jo's Garden, which served us a super tasty and fresh salad as well as a Yummy Pizza at a very good price. A restaurant visited by locals, and hihi by Lonely Planet owners, otherwise it's hard to find. Among other things I had the sweetest Magarita of my life so far. Uuurggg! There had to be one more to neutralize it.
The bar we went to was great. We sat on the street and had a lot to look at! Also a local spot! Apart from a very drunk local who, how could it be otherwise, especially liked me:-). I only mention flag!
Arrived at the hotel, we stayed up with Nigel for a long time, and had a very intensive conversation about our lives so far.
So that was it for now. We do love what we are doing right now in spite of it all!
Good week to you! Heike and Toshi
Date: Friday, 12. October 2018, Position: Cabo San Lucas, BCS, Mexico, Mood: Good!
At the Baja Ballermann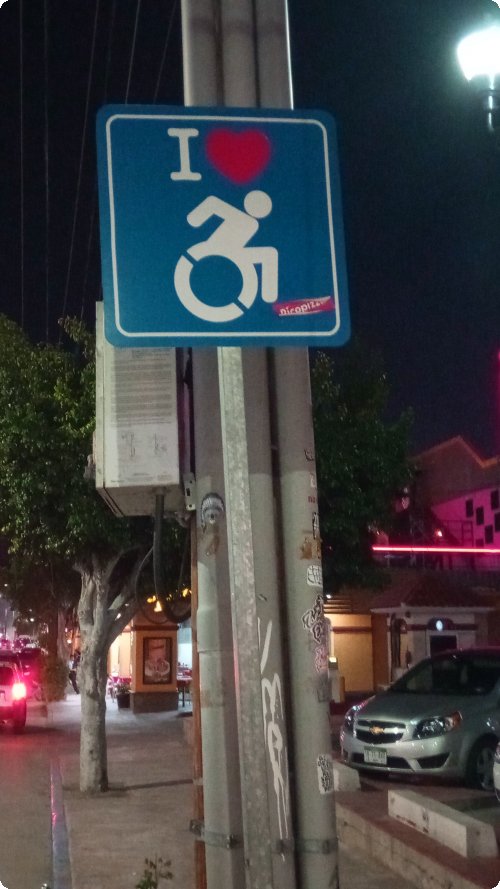 After all: Cabo San Lucas loves wheelies!
This morning we started slowly, because we only had 80km to Cabo San Lucas. It was quite warm, in between it rained. Warm rain.
Arrived in Cabo, we could quickly guess where we had landed. The Baja Ballermann. Loud, stuffy, one bar after the other, sex shops, table dance. The whole program. Here is paid exclusively in US dollars. (Tanja, if you read this: It is disappointing!!!) Until we finally found a cheap and safe place for the mopeds, my skin was burned, my brain stuck together and we were all quite annoyed. But our accommodation, Cabo Cush, apart from the mosquitoes during the twilight, is very central, nevertheless away from the hustle and bustle, has pretty rooms, a patio with plants and is cheap. Lee and Nigel are then to the Diveshop, we to the Starbucks as a reward.
Quickly we bought the essentials, ate bean soup and tacos, and then off to the hotel. While I'm blogging, Toshi checks the workshops on site and sends an SMS to Mike at home, who knows BMW's from the inside. And of course we would be grateful for any hint!!! (Well, Ralph, you are our hero! Ideas, before we let someone screw it around ;-) By the way, the sidecar is sooo great. Have I mentioned this before? Greetings to your loved ones!)
Tomorrow we'll try a recommended mechanic. Then we see further. Also, what we do then. Because now we have to drive over to the mainland of Mexico. The two boys will stay for sure until Wednesday.
Dear ones, we miss you and dear ones what we do! :-)
Sincerely, Heike and Toshi
Date: Thursday, 11. October 2018, Position: Todos Santos, BCS, Mood: Medium!
Hotel California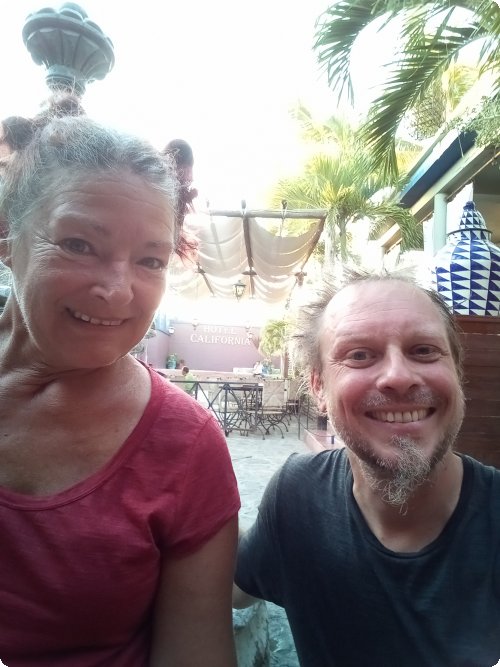 The Original Hotel California. Except: the "real" one doesn't really exist...
Dear ones and beautiful ones of this earth!
This time the journey was rather boring to exciting, because the road was dead straight from very good to miserable. Gravel, sand. Also hardly more cacti, which would have distracted us the 430 km well. Toshi mastered it with bravura.
Our destination was Todos Santos instead of La Paz, especially the original Hotel California, which was sung about by the Eagles doddemols. I added a little more excitement to the whole trip as I wanted to be friendly and not an obstacle to fast progress and insisted on not having to refuel. Yes, I learned my lesson: If the driver says refuel, then refuel. So you can imagine it: We ran out of gas 20km before our finish! Luckily Nigel had a spare canister, and I got rid of the round of beer at the Hotel California! What do we learn from this: In the end, consideration doesn't pay off! When we started again, there was a disturbing noise, like loose rattling screws somewhere in the area of gearbox or clutch. Unfortunately overheating and thus too thin oil does not seem to be the core of the problem. Because when we left for Cabo San Lucas this morning, it rattled again. Toshi describes it this way: "The rattling is quiet in standstill. It gets louder in city traffic. Engine brake and starting under low load.
Todos Santos is actually not really something for us. Quite nice, expensive, tourist, American. It is paid in US dollars. We wandered through the place to find a cheap hotel. At the end we found the Guluarte, which has simple and cheap rooms. In addition a very good coffee this morning.
Eintrag erstellt am Samstag, 13. Oktober 2018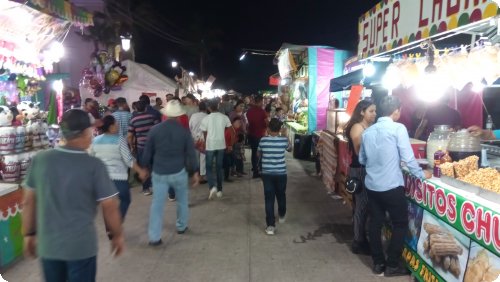 Fiesta, Fiesta!
The Hotel California is a tourist spot! Pretty inner garden, tasteful lamps. Everything provided with art. Plus silver and handicraft shops. And at the end we googled that the Hotel California, which is sung about in the song, stands in an imaginary place.
After a wonderful dinner with guacamole, cazuela and enchiladas we strolled towards the fiesta that took place on the market place. Children's giant wheels, pink plastic horns on rolls, balloons, children about children, cackling teenagers, breastfeeding mummies, bells and whistles, food stalls, sweets, and Mexican live music that sometimes sounded like brass music. We sat there until midnight, watching the action. Smiling, laughing and admiring. It wasn't an American or a white-skinned man far and wide!
Date: Mittwoch, 10. Oktober 2018, Position: Loreto, BCS, Mexico, Mood: Top!!
Vacation by the sea…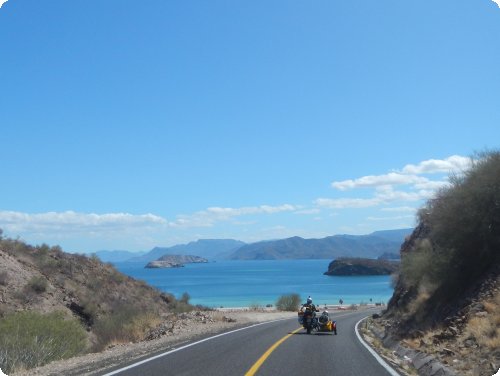 Breathtaking: Arrival at the Gulf of California ((C) Lee)
It was a long and beautiful ride to the east coast of the Baja. Mountain ranges lined our way in the west. Slowly the vegetation changed. The mountains shimmer green. The closer we came to the coast, the warmer and more beautiful the light became. Palm trees, green grass. Vultures, turkey vultures, circled over the landscape. Thousands of yellow butterflies fluttered through the air, circling wild bougainvilles. Magenta and yellow in sparse surroundings. Great!
Our encounter on the Gulf of Baja was in blue at the back, turquoise in the middle and transparent on the beach.
Wonderful beaches with huts under which you can pitch your tent. Basic, but with views of mountainous islands that look as if they were creatures in the sea!
At the end we checked in in Loreto at the Hotel Oasis, located directly at the beach, and to my great pleasure for two days. The evening was long and funny with a little too much alcohol. The boys had fish, I had shrimps ceviche.
The boys then took a dip in the sea in the dark. It cackled and laughed out of the darkness, and I was just happy! Men talk at least as much as women do. Maybe just about something else!
Today we spent the day washing, showering, checking our crossing from Panama to Colombia, downloading maps for Central and South America… A very relaxed and efficient day!
Tomorrow we go to La Paz, maybe to the cabos in the very south! Depends also on the hurricane, what he does now.
Dear ones, now we have an Italian dinner in our hotel!
Stay as you are, because you are wonderful! Sincerely, Heike and Toshi
Eintrag erstellt am Samstag, 13. Oktober 2018
Date: Sonntag, 7. Oktober 2018, Position: Guerrero Negro, BC, Mexico, Mood: Good!
Stopover in the middle of the desert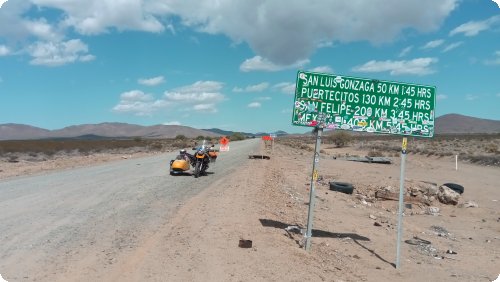 "Ruff road," as Nigel and Lee would say: We leave the turn-off to Coco's Corner on the left side.
On the way to Guerrero Negro we saw the same wonderful cactus landscape.
After a very cheap and delicious taco lunch with fish, shrimps and ceviche, which was raw fish in lime sauce with chilli, tomatoes and avocado, we met Nigel and Lee again. They were on their way to Coco's Corner, which is even more legendary than Cal's Coyote. We gave it to ourselves, enough of places where one must have been.
In the evening we reached the Hotel Marrimo that has very cute rooms. The restaurant there is considered to be one of the best in the village, and that was true! I had fish soup and Toshi had a local fish. Yummy!
Later we received an SMS from Lee that they also stay overnight in the village. We arranged to have coffee in the morning. Because we wanted to start the next morning together to Loreto.
Eintrag erstellt am Samstag, 13. Oktober 2018
Date: Sonntag, 7. Oktober 2018, Position: El Rosario, BC, Mexico, Mood: Top!!
Mama Espinoza and two bikers from the UK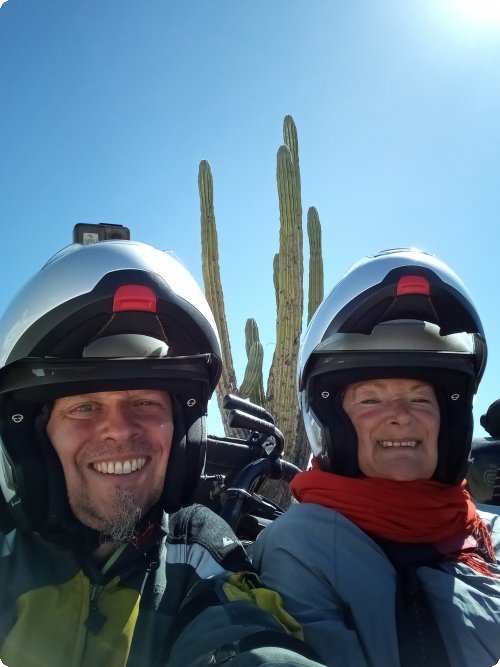 Jeder denkt das eine, doch dafür is' zu heiß: Selfie, Selfie in der Wüste...
The next day we left for El Rosario in joyful anticipation and again in a good mood. The weather was also better again, albeit a bit cool. And what came next took our breath away. A cactus garden stretched over Kìlometer. We drove almost through the middle. Since it had rained before, suddenly everything blossomed. What must have been grey and brown before was green. There are infinitely many different cacti: The kind we know from Lucky Luke comics, at least 10 m high; elephant foot-like ones with puschels on them, extremely amusing and always produced a giggle in us; baseball bat-like ones with quite spiky looking spines; ones that look like a union of several snakes; others that look like corals and then not to forget the bobble with red spines. Yes, somehow it made the impression of sea plants, only without sea! Unbelievable and a feast for the eyes! And so we did not notice the dead straight road and reached El Rosario about 17h.
Eintrag erstellt am Samstag, 13. Oktober 2018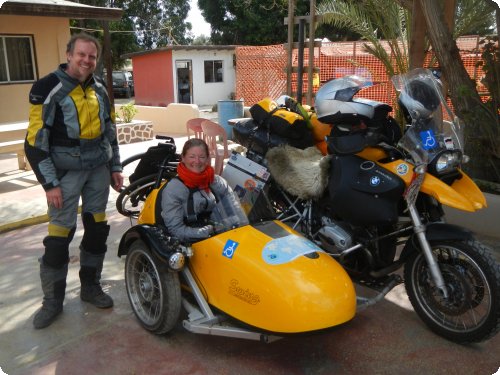 Finally someone takes a picture of us. Thanks, Lee!
The village rather unspectacular, but the Motel Mama Espinoza even more so! A rather drunk Mexican found great favor with us. He spoke only Spanish, stammered something of Corazon, Jesus Christ and beer. He had to hug me again and again in order to follow his great joy to have got to know us with an appropriate gesture. Unfortunately, no great joy at the flag!
While he was hearting and embracing me, two motorcyclists arrived. Toshi talked to the two so that he could not save me from the "clutches" of my new admirer. So between stammering that I didn't understand and embraces went by for quite a while. Abruptly he left me then, in order to come back immediately with cookies and beer. Since I had enough of caresses with flags for the next time, Toshi signaled to him to leave friendly, which he did.
So if we hadn't left Coyote Cal's, we would never have met the boys. Nigel from Scotland and Lee from England. Really funny, English humor just, and great people. We spent a nice evening together, exchanged contact details. And so life shows us once again: One is the plan, the other the life!
In the evening three nice bikers from Mexico came to the hotel and we had a chat with them. We also exchanged contact details with them. It would be nice to see them again!
Date: Samstag, 6. Oktober 2018, Position: Coyote Cal's, Erendira, BC, Mood: Good!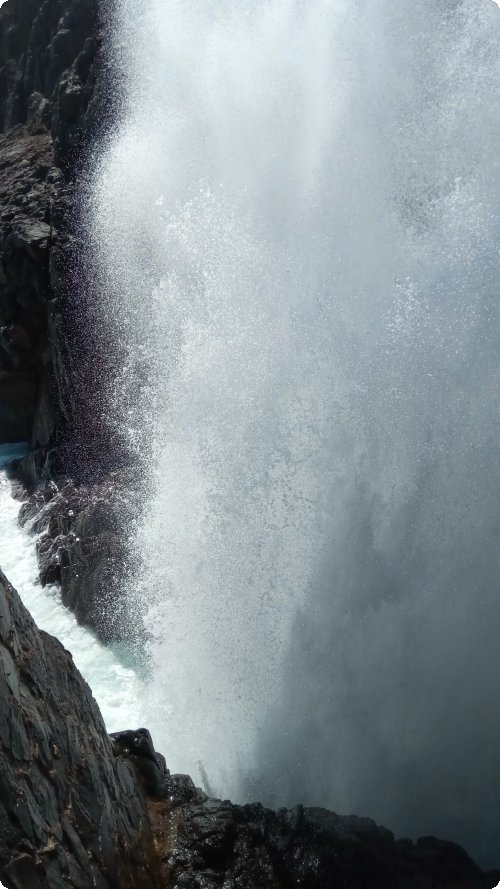 Impressive and wet: La Bufadora
Dear ones and good ones everywhere!
Yes, we still exist, and the best of all: We are soooo good! Thanks for all the contributions to our trip over the last few days! We enjoy every time we receive emails and Facebook greetings.
After we had left Laura and Celestino, we were gondola-tailed to La Bufadora, a sightseeing spot, in the most beautiful light. There is a Blow Hole, from which fountains of water shoot tens of meters high up to the rocks. The water mist is spread over all the visitors who jump apart screaming loudly.
Very touristy with many stalls offering food, but above all art, kitsch, unď clothes for sale. Fortunately, nothing fits on the thickness anymore!
There we met Thor from Norway again, whom we had met at the HU meeting in Mariposa. He travels the globe like we do.
Somewhere by the sea we had delicious tacos with fresh fish. The food here is really the purest feast. Not to be compared to Mexican food in Europe! Since we dawdled so, we arrived in Erendira already at nightfall. But there was another 3 km gravel road to Coyote Cal's. Not quite easy for us, especially in the dark! But we did it, and found ourselves directly at the sea on a hill.
The Coyote Cal's is cult among motorcycle travellers. Since it is so hyped, we had great expectations. And we were disappointed. Not from the establishment itself, also not from Tomas, our host, but from the fact that we were there alone. It was lonely there. And from the stories we were looking forward to a lively and colourful place.
The next day, when the weather was grey, cloudy and cool, Toshi's mood sank to zero! And we had no more supplies, so we had to eat there. Because Toshi was somehow a little paralyzed to drive to the town. I say "had to", because the Coyote Cal's is expensive! Really expensive. For example, a cup of coffee costs 2 dollars and a plate of Thai Curry 12 dollars. It was very good, but not good for the budget. Also this hit us on the mind, because we hoped to stay there for a week.
Eintrag erstellt am Mittwoch, 10. Oktober 2018
Date: Donnerstag, 4. Oktober 2018, Position: Ensenada, Baja California, Mexico, Mood: Top!!
Border, all easy!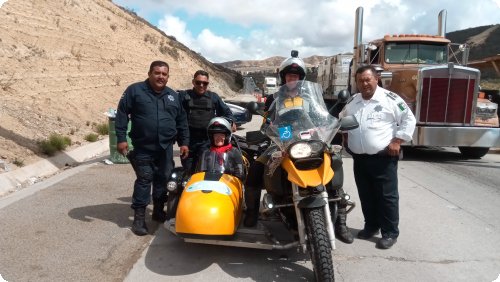 Attention, please smile! Police inspection.
Yes, that's not how we imagined it in our wildest dreams.
It took us about two hours to leave the USA and enter Mexico. Of these, about 15 minutes were a cheerful chat with the US border official, 10 minutes were watching a motorcycle, and 4 minutes were tips for Mexico. There was a stamp, date, signature on the customs papers for the motorcycle, and only after the form had been carefully checked and read. Because different stations would have different forms.
Well, we simply believe it. If there is nothing else left for us, we don't have any other papers, and the main thing is an official confirmation of departure, which we can refer to. As always in the USA: Just don't contradict the officials or interfere.
On the Mexican side, however, everything was very easy and relaxed, even though at first we accidentally drove across the actual border without the necessary papers and were simply asked to drive back to the customs building.
We needed about half an hour for our papers and for the motorbike. Actually, the whole thing takes place mainly at the bank counter, where one can pay the tourist permit and the temporary import by credit card. In gossipy Spanish it's absolutely easy!
And then about 30 minutes wait for the key for the Rollitoilet in the Mexican border station (ultramodern building, but the key was apparently untraceable). Even the cleaning lady didn't have a key of her own, and then interfered in the search for the office crew. Their private toilet seems to be the Rolliklo. Judging by the deodorants and other private articles that stood around here.
It was all right with us. A really wonderful, clean, spacious toilet. Some of the US-Rollitoiletten could cut themselves there gladly times a slice off. These are usually in the respective male or female compartments, and openly accessible. And they often look accordingly. As a man I sometimes hardly believe what a mess women can do on the toilet. While men occasionally pee next to the urinal… But let's not do that!
The Mexican side of the border crossing Otay Mesa, El Escondido, seems lively, but we are a little afraid to take more breaks here than to stop at the traffic lights. We so many border towns this one has something scary, rather wicked. And too many advised us not to stop the first 100 km after the border.
Well, we did not expect our first police check in approx. 15000 km. The outstretched hand, the serious look behind dark glasses, and the protective vest promise nothing good. We have the helmet front sides and the sun visor already above, so that he can see our faces. And – he pulls out his mobile phone and takes a picture. General laughter, colleagues want to know where from, where to, what kind of motorcycle it is ("Ah! BMW! Aleman! We are also bikers!"), and everyone wants a photo. So do we! Since a queue has formed behind us at the checkpoint, we pull to the side. Pictures are taken, information is passed on ("Mexico is safe!"). – The most important thing for us, and clearly we feel exactly that in this moment! "And don't drive at night! – Claro que si!), and during that time of course the post remains unoccupied, and some vehicles pass without control. We wonder anyway what is to be checked here. Anyway.
A few kilometres later we get our first tacos. Delicious! And try an iced one! And try to get an iced latte, which goes terribly wrong, and ends in a kind of Irish coffee with crushed ice, or maybe Baileys on the Rocks with a cream topping. At least somehow alcoholic. We'll practice that again. Although the waitress spoke English, obviously the desire for a simple unsweetened coffee with milk and ice didn't quite come across.
Eintrag erstellt am Montag, 8. Oktober 2018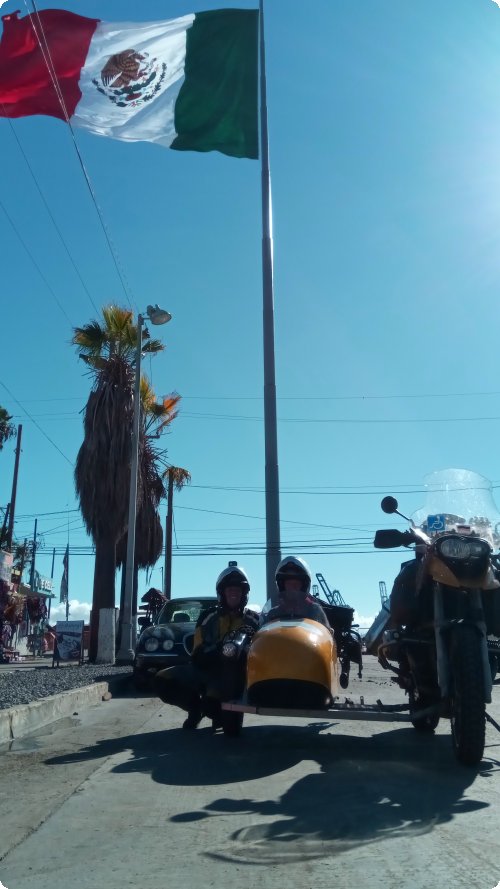 Small motorcycle, big flag: Welcome to Mexico!
We reach Ensenada after a nice drive on the toll-free Ruta 1, which leads spectacularly along the coast while the toll road is boring.
Impressive is the huge Mexican flag at the harbour promenade of Ensenada, under which a water feature to the music of Eros Ramazotti makes children wet.
We booked a room via Booking. It turns out to be a homestay (room in the apartment of the landlord, with shared kitchen and living room, but own bathroom). Wonderful in the backyard, and with its own garage, so that our fat one stands safe and protected. Laura and Celestino are very helpful, explain their city and their Baja (which is pronounced "Baha" by the way) to us in detail, and give us four avocados directly from the tree.
In the evening we went for a walk into the city centre, got a phone card from Telcel, which doesn't work, but only cost two Euros fifty, and took a look at the pub landscape of this lively city. And we also felt completely safe in the dark.
The next day we want to go on to Erendira, more precisely to Coyote Cal's, a hostel on the beach that enjoys cult status among motorcyclists. There we want to camp for a few days to rest a bit and do some preparations.